Tulsa's Greenwood District residents fear being pushed out
Kendrick Marshall/Tulsa World | 7/4/2019, 6 a.m.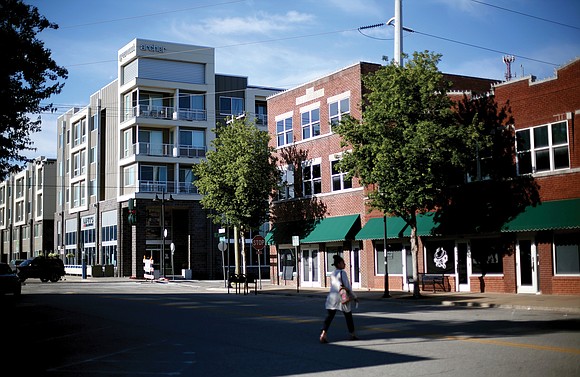 Wherever the existing businesses along the stretch of Greenwood lie, those properties are part of the capitalistic invasion that fails to enrich the district's legacy, Ms. Williams said.
"This has been happening for years, and people are starting to notice," she said. "This city has been masterful at pulling people away from the area."
Arguably the most successful business in the area today — one that has ignited acrimony among black residents and business owners alike — is the $39.2 million ballpark that protrudes well into Greenwood.
But nine years after the first pitch was thrown at the new home of the Tulsa Drillers, Mechelle Brown, Greenwood Cultural Center program coordinator, said black residents have not reaped its promised benefits from 70 game days and nights a year.
"What we were told years ago is that the ballpark would bring jobs. However, when you go to the ballpark, you rarely see a lot of African-Americans working there and definitely not in administrative positions," Ms. Brown said. "It did not bring jobs to our community, and it has not had a huge impact economically."
Ms. Brown said the resentment over ONEOK Field runs so deep that many black residents refuse to patronize it.
Former City Councilor Jack Henderson, who supported the ONEOK Field project at the time, said the Greenwood District site was "a fit that helps the north Tulsa community."
These days, Mr. Henderson, despite the criticism, maintains the stadium has helped revitalize the district and inspired commercial development in the area — something he says might not have been possible before the minor league baseball facility existed.
"A lot of people don't see that as a positive because a lot of people didn't want the stadium to come," Mr. Henderson said. "They thought they lost so much with the Greenwood District experience. I don't see it like that. I see it as a positive. It is going to take time, but I think we are going in the right direction now with other things being added to Greenwood."
For anyone who has studied the history of Greenwood, or lived it, what's happening in 2019 is an all-too-familiar story.
After the race massacre all but destroyed Greenwood and its thriving business district, black residents remarkably rebuilt it even stronger than before, until urban renewal projects and construction of Interstate 244 forever changed its economic landscape.
Tulsa author Hannibal B. Johnson explained that gentrification in the district began as early as the 1960s with the creation of the Urban Renewal Authority, which had eminent domain power.
"URAs around the country abused that power by targeting communities of color for property acquisition and highway location," said Mr. Johnson. "This fractured urban communities nationwide."
Others theorize that zoning law changes over the years affected Greenwood's ability to expand while encouraging — intentionally or not — adjacent districts to thrive.
There has also been concern about Greenwood not being included on the National Register of Historic Places. That designation would have enabled the district to have certain protections and some autonomy over its destiny, said Sherry Gamble-Smith, former executive director of Greenwood District Chamber of Commerce.