Slot machines hit jackpot in stores around Va.
Jeremy M. Lazarus | 7/12/2019, 6 a.m. | Updated on 7/12/2019, 7:37 p.m.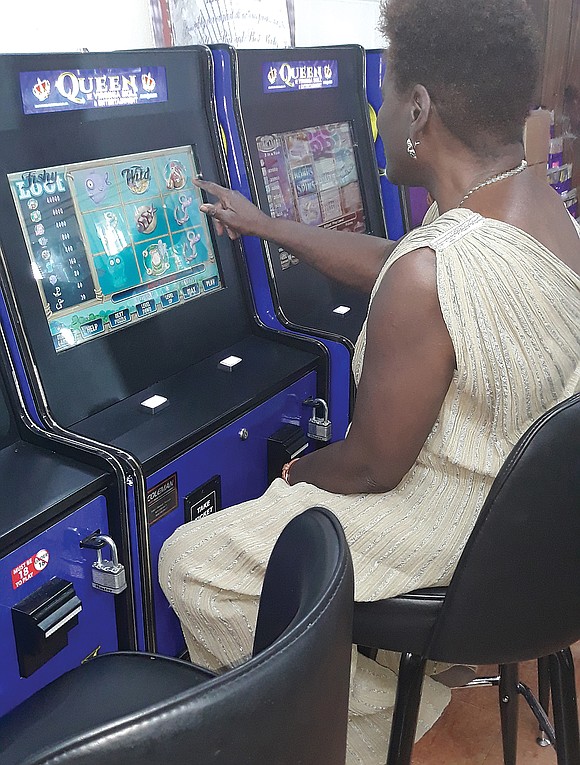 Andrea R. Hill is a self-confessed "slot machine grinder," but she still hasn't visited the new Rosie's Richmond Gaming Emporium in South Side to try her luck on the array of slot-style machines.

Instead, the Richmond resident prefers to get her daily "gambling fix" at a convenience store near her job, the Quick N Easy in the 4100 block of West Broad Street.
Inside, past the chips and snacks and close to the coolers of beer and sodas, Ms. Hill has her choice of seven cash-operated, computer-controlled machines that mimic the push-button slots of Atlantic City and Las Vegas. The symbols revolve on the screen like slot machines.
Every now and then when the symbols line up right, a player can hit for a jackpot of $2,000.
The store has an arrangement that allows players to get their winnings almost immediately from a clerk.

"It's fun and I win occasionally. Just the other day, I got a $120 jackpot, but it looks like I'll be giving that back to the store," said the 39-year-old pharmacy technician.
"Virginia has come a long way. When I was younger, I used to have to drive out of state to play. Now, these machines are everywhere."
The convenience store, near Thomas Jefferson High School, is just one of the locations in which these machines have popped up in the past two years. Across the Richmond area and around the state, more than 4,000 similar machines can be found in gas stations, bars and mostly locally owned convenience stores eager for a new stream of revenue.
In a state that has long frowned on gambling, the Virginia Is for Gamblers movement is clearly moving beyond the state-run lottery and parimutuel betting on horse races.
The movement got a big boost two years ago when the General Assembly, seeking to revive horseracing, cleared the way for a $1 billion-plus operation involving machines like the ones at Rosie's. Instead of random numbers, equipment at Rosie's with slot-machine faces rely on the results of old races to fuel their results instead of random numbers that typical slots use, according to the regulatory Virginia Racing Commission.

But even before that action, ambitious private companies began exploiting a loophole in the anti-gambling laws in various states, most notably Duluth, Ga.-based Pace-O-Matic and its Richmond-based subsidiary, Queen of Virginia Skill and Entertainment, and Coleman Music and Entertainment of Jacksonville, Fla.
Those companies have been closely reading state laws on gambling to find a way to bypass them. In Virginia, they noticed the law only bans slot machines with three factors — a wager, the offer of a prize or cash and a win based solely on chance. Knock out one, and a machine can be legal.
And that's what these companies say they are doing — creating machines that require "skill."

For example, many of these machines do not generate wins for the player simply by the press of the play button. Instead, when two symbols of the same kind are visible, the player must touch the screen over a third symbol, usually a "wild card," to get the third symbol in line to create a win.