Slot machines hit jackpot in stores around Va.
Jeremy M. Lazarus | 7/12/2019, 6 a.m. | Updated on 7/12/2019, 7:37 p.m.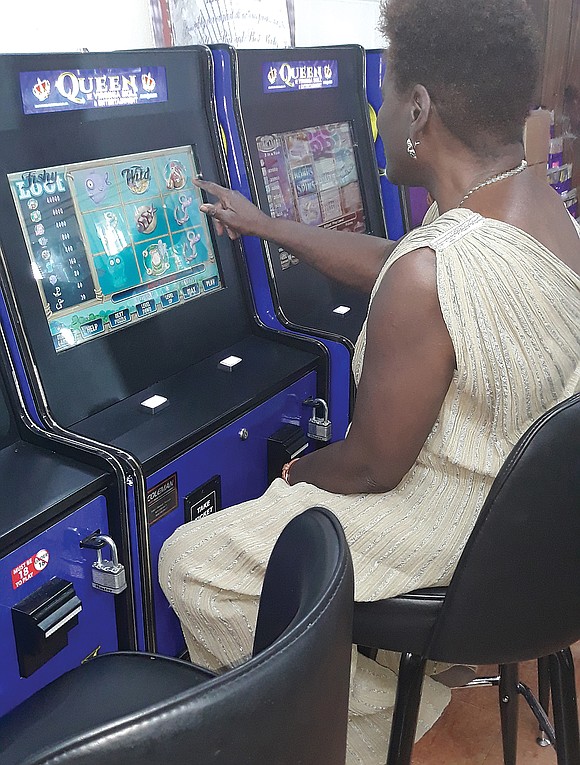 It's pretty simple, said Ms. Hill, but that small action is enough to allow the manufacturers to claim that skill is involved. Players must recognize the situation and act within a short time, 10 seconds or so, to win.
Others require players to use memory. For example, in one game, circles light up in a pattern that the player has to mimic to have a chance to win.
Courts in Ohio and Pennsylvania have ruled in favor of the manufacturers, and in Virginia, the state Alcoholic Beverage Control Board has cleared the Pace-O-Matic machines as meeting the "skill" test.
"A lot of times when people look at these machines, they say, 'It looks like a duck, it quacks like a duck, so it must be a duck.' But that's not always the case. And certainly not when it comes to this equipment," said Brent Jackson, a Richmond attorney who represents Gracies Technologies, a New York-based company that also distributes machines in Virginia.
The Virginia ABC decision is the main reason virtually all the machines are located in restaurants and stores that have licenses to sell beer and/or wine on and off premises.
In Virginia's January General Assembly session, the state Senate rejected a proposal that would have created a new regulatory division to monitor the machines in the Virginia Department of Agriculture and Consumer Services.
Still, despite the ABC's decision, the legality of the machines is questioned. To date, Virginia Attorney General Mark R. Herring has not issued a legal opinion, and so far no charges have been brought against businesses that have allowed companies to place machines in their stores.
In Richmond, former Commonwealth's Attorney Michael N. Herring regularly received information from police and residents about these machines since they began appearing, but declined to take any action.

Assistant Richmond Commonwealth's Attorney Joshua Boyles, whom Mr. Herring assigned to investigate, stated in response to a Free Press query that "our office hasn't given a green light to any slot-style machines in the city," except those now at Rosie's.
However, he declined to suggest that any machines now operating in stores are illegal.
"Whether use of a given machine amounts to illegal gambling or a permissible game of chance is a very fact-specific inquiry," he stated.
Mr. Boyles previously told the Virginia Mercury that the legal status of the machines "is uncharted territory."
The first real test of that legality could come in Charlottesville, where Commonwealth's Attorney Joe Platania on June 7 deemed them illegal and ordered businesses in that city to remove them within 30 days or face criminal charges.
He has yet to follow through on charges for noncompliant businesses. Pace-O-Matic indicated to a Charlottesville newspaper that it believes its machines meet requirements of the law and that it stands ready to defend its interests.
Still, despite the spread of the machines, they have not generated the kind of buzz that Rosie's sparked when it opened last week on Richmond's Midlothian Turnpike. By contrast, empty chairs at the machines are a common sight in convenience stores and lines rarely, if ever, develop with players waiting to play.
The amount of money being wagered in stores also is a far cry from the Rosie's gusher. With the opening of outlets in Richmond and Hampton, Rosie's is on track to rake in from players $100 million or more per month before jackpot and tax outlays.
Pace-O-Matic and other companies are not required to report their earnings or the amount of wagering being done on their machines in Virginia.
Based on information Pace-O-Matic released on its website, the company's machines in Virginia generated about $9 million between October 2018 and June 2019, before the payout of jackpots and taxes.
The split from machine's revenues is advantageous to stores. Queen of Virginia reports its games return about 92 percent to players in terms of jackpots, which is typical for a slots operation. The remaining 8 percent of the revenue is split three ways: 40 percent to the location and the remainder evenly split between Queen and its parent, Pace-O-Matic.