Students fight the 'summer slide' with YMCA's Power Scholars Academy
Ronald E. Carrington | 7/26/2019, 6 a.m. | Updated on 7/26/2019, 7:10 p.m.
The excitement was tangible as more than 40 students from Richmond's Oak Grove-Bellemeade Elementary School, all wearing identical gray T-shirts, entered the Science Museum of Virginia's cavernous lobby with its shiny marble floor and 50-foot ceilings as sunlight from big windows bathed the space.
The youngsters craned their necks to see the gigantic Foucault pendulum hanging from the ornate ceiling of the building that was once Richmond's Union Station, a train station built in 1917. The pendulum, which demonstrates the rotation of the Earth, swung slowly back and forth while rhythmically knocking down dominoes.
The delighted Power Scholars Academy students knew their field trip last Friday would be a day to remember.
Every child, with bright faces and wide-eyed anticipation, was eager to start examining the museum's exhibits. From the basement to the second floor, they would inspect and play with exhibits that amazed and inspired them and engaged with hands-on exhibits that challenged their imaginations and ability to beat robots.
The Power Scholars Academy is a summer enrichment program for elementary and middle school students conducted by the YMCA of Greater Richmond in public school buildings. It is designed to combat the "summer slide," the summer learning loss more pronounced in high-risk students from low-income families, and to advance physical and social-emotional growth, organizers said.
The program is in its fourth year, said Pam Smith, operations director for expanded learning for the YMCA of Greater Richmond. But this is the first year students from across the city have been able to attend.
Four days a week, more than 1,000 RPS students attend academic sessions, including reading, mathematics and science classes, at one of seven city schools. The morning classes are taught by RPS teachers. In the afternoons, YMCA instructors provide personal enrichment sessions, including yoga, arts, performing arts and the humanities.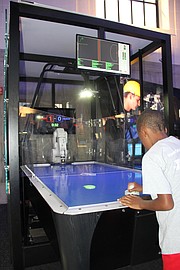 Fridays are enrichment days when students participate in team and confidence building exercises, visit museums, state parks, zoos and area colleges and universities. Last Friday's visit to the Science Museum of Virginia was an enrichment field trip and the students were excited.
Kendreeanalyn Cartwright, a first-grader, sat on a bench in the museum's lobby watching the pendulum swing back and forth while the enthusiastic chaos of her classmates and more than 60 other school-age children echoed in the space.
She said she likes PSA's Fridays because she has gone to Pocahontas State Park and the Metro Richmond Zoo in Chesterfield County.
She said she reads books and solves math problems Monday through Thursday, adding, "I want to be a math teacher."

PSA, which started June 24, ends on Friday, July 26. It is free for youngsters, with RPS teachers recommending students to attend. The program also wants to help foster confidence and academic achievement, particularly in youngsters who may be struggling academically.
"Our goal is for these students to feel more confident as learners when they return to school in the fall as they make up some ground preparing for the next grade level," Ms. Smith said.
The program also gives teachers an opportunity to teach subjects they are interested in outside of their normal instructional assignments during the school year. For instance, if a teacher teaches history during the school year and has an interest and proficiency in astronomy, he or she can teach astronomy in PSA's afternoon program.
According to PSA annual surveys, teachers say the program empowers them with 21st century instructional skills and strategies that they can take into the classroom during the school year.
Oak Grove-Bellemeade student Shawn Clark, 8, was not doing well in reading last year. He said during the visit to the Science Museum that "I get to do fun things – reading and math" in the PSA program.
For the balance of the summer and in preparation for the second grade, he said, "I am going to read more books, keep my grades up when I go back to school and help other students with their reading and doing school chores."
"For our young students, we can instill values, thoughts and ideas about college, careers and things that they like by doing basic kinds of things," said Ebony Patterson, a 2009 Virginia Commonwealth University graduate who is the PSA site director for Oak Grove-Bellemeade Elementary.
"When elementary students get their feet on a college campus, they can begin to envision themselves there."