Mariah Stackhouse narrowly misses LPGA win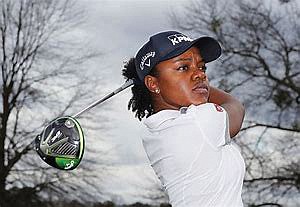 Mariah Stackhouse's bid to become first African-American to win an LPGA event came up a few shots short.
The 25-year-old, former Stanford University standout flirted with the lead and finished in a tie for fifth at the ShopRite Classic in Galloway, N.J., last Sunday.

Stackhouse was just one shot off the lead starting Sunday's final round in the 54-hole event that was won by Lexi Thompson.
Earning $60,758, Stackhouse had rounds of 66 and 67 before slipping to a final round 74.
It was her top performance in three seasons on the tour.
Stackhouse, a cousin of former University of North Carolina and NBA standout Jerry Stackhouse, was born in Charlotte, N.C., and went to high school in Riverdale, Ga. The 5-foot-6 right-hander helped Stanford to the 2015 NCAA women's golf title. In 2014, she became the first African-American to be selected to the Curtis Cup team.
Currently, the only other African-American on the LPGA tour is Cheyenne Woods, niece of Tiger Woods.
There is a short list of African-American women with LPGA résumés. Althea Gibson was the first in 1964. Renee Powell was on the circuit from 1967 to 1980.
LaRee Sugg of Matoaca High School in Chesterfield County also competed on the circuit from 1992 to 2001.