City's first African-American fire chief Ronald C. Lewis dies at 84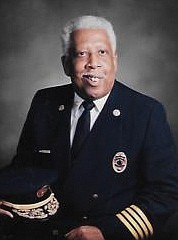 Ronald Charles "Ron" Lewis led the modernization of Richmond's Fire Department after being installed as the city's first African-American fire chief in 1978.
During his 17-year tenure, the department overhauled its equipment, renovated seven firehouses, launched a fire safety education program for fifth-graders in Richmond Public Schools, operated the first giveaway programs of smoke detectors and decreased fire deaths in the city by 75 percent.
A founding member of the International Association of Black Firefighters, Mr. Lewis died in Richmond on Saturday, Feb. 23, 2019. He was 84.
Final tributes will be paid during a service at 11 a.m. Friday, March 1, at Fifth Baptist Church, 1415 W. Cary St., with a repast afterward at Ebenezer Baptist Church, 216 W. Leigh St., according to Scott's Funeral Home.
A Philadelphia native, Mr. Lewis attended the University of Pennsylvania and Temple University after high school and joined the fire department in his hometown at age 22.
Rising through the ranks, he was promoted to a fire lieutenant in 1963 when he was in his late 20s, fire captain in 1968 in his mid-30s and fire battalion chief in 1974, when he turned 40.
In November 1978, Mr. Lewis was installed as Richmond's fire chief, becoming one of the first major appointments for then-Richmond Mayor Henry L. Marsh III and the new majority African-American City Council, which had gained control of Richmond's governing body a year earlier in 1977.

As the Fire Department's 17th chief, Mr. Lewis quickly ushered in change to the predominantly white department that had admitted its first African-Americans in 1950.
The department released a list of the multiple ways that Mr. Lewis impacted firefighting in the city, including pushing diversity in hiring to attract more African-Americans, Asians and Latinos into the service and implementing the first major reorganization to improve efficiency.
"Many of the programs he introduced served as a model for other departments and continue to operate today," according to a department statement announcing the former chief's death.
Mr. Lewis, for example, secured funding to update trucks, equipment and firefighters' protective clothing and breathing apparatuses, the department noted, and increased the standard size of hoses to four inches to push more water onto fires.
The department also cited Mr. Lewis' launch of the first hazardous materials team and creation of a firefighter physical fitness program in the department. He also established a career development program to enable firefighters to improve their skills and move into management.
He started a sign language program to enable firefighters to better serve the deaf and printed ID cards in Braille to enable the blind to identify firefighters.
During his tenure, the department shifted from educating second-graders to pushing fire safety for fifth-graders.
Before Mr. Lewis stepped down in 1995, the department had begun planning to become the first department in the country that relied solely on quints, or trucks that combine ladder and hose operations.
He also pushed the department to become involved in responding to medical emergencies and enabled firefighters to train as emergency medical technicians.
Before coming to Richmond, he was active in the International Association of Black Firefighters that he helped start. He served as northeast regional vice president for four years and as the regional affirmative action officer for three years.
He also was a former president of the Club Valiants Inc., an African-American firefighters group; a past member of the board of the Philadelphia Fire Officers Association and the only African-American named to the Fire Department Federal Appeals to improve diversity hiring in Philadelphia.
Mr. Lewis won numerous awards during his career, including the Richmond Branch NAACP's Freedom Award and the Virginia Fire Programs' EEO Person of the Year Award.
Survivors include his wife, Leslie A. Lewis; three daughters, Terri A. Lewis, Anita M. Lewis and Audrey Y. Davis; a son, Kenneth E. Taylor Jr.; five grandchildren; and one great-grandchild.
The family requests that memorial donations be made to the Ronald C. Lewis Scholarship Fund at the Richmond Fire-Police Credit Union, 900 Hermitage Road, Richmond, Va. 23220.