Diversity a big winner at 91st Academy Awards
3/1/2019, 6 a.m.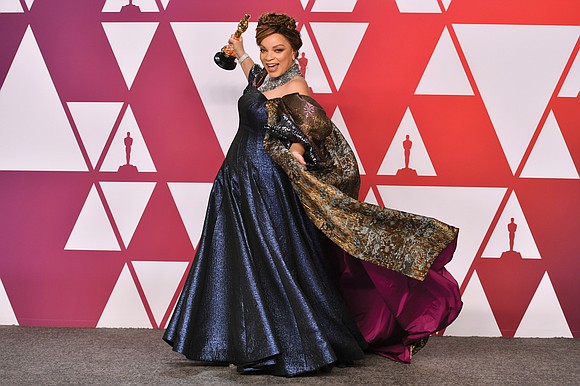 The lush, big-budget "Black Panther" also won an Oscar for Ludwig Goransson's score.
In the hostless event, the motion picture academy leaned on its presenters to engage the audience. Tina Fey, alongside Amy Poehler and Maya Rudolph, welcomed the audience to "the one-millionth Academy Awards."
Ms. Rudolph summarized a rocky Oscar preamble that featured numerous missteps and backtracks by the Academy of Motion Picture Arts and Sciences: "There is no host, there won't be a popular movie category and Mexico is not paying for the wall."
The trio then presented best supporting actress to Regina King for her role as a matriarch in Barry Jenkins' adaptation of James Baldwin's "If Beale Street Could Talk." The crowd gave Ms. King a standing ovation for her first Oscar.
"To be standing here representing one of the greatest artist of our time, James Baldwin, is a little surreal," said Ms. King, who also thanked her mother who was seated in the audience. "James Baldwin birthed this baby."
Two years after winning for his role in "Moonlight," Mahershala Ali won again for his supporting performance in the road trip drama "Green Book," a role many said was really a lead.
Mr. Ali is the second African-American actor to win two Oscars following Denzel Washington, who won for "Glory" and "Training Day." Mr. Ali dedicated the award to his grandmother.
"Green Book" also won for best original screenplay.
"Bohemian Rhapsody," which kicked off the ABC telecast with a performance by Queen, won four awards despite pans from many critics and sexual assault allegations against its director, Bryan Singer, who was fired in mid-production.
The film's star, Rami Malek, won best actor for his full-bodied and prosthetic teeth-aided performance, and the film was honored for editing, sound mixing and sound editing.
"We made a film about a gay man, an immigrant who lived his life unapologetically himself," Mr. Malek said in accepting his award. "We're longing for stories like this. I am the son of immigrants from Egypt. I'm a first-generation American, and part of my story is being written right now."
The film "Roma," notched Mexico's first foreign language film Oscar. Mr. Cuaron also won best cinematography, becoming the first director to ever win for serving as his own director of photography. Mr. Cuaron referenced an especially international crop of nominees.
"When asked about the New Wave, Claude Chabrol said there are no waves, there is only the ocean," Mr. Cuaron told the audience, referring to the French filmmaker. "The nominees tonight have proven that we are a part of the same ocean."
The inclusivity of the winners Sunday stood in stark contrast to the #OscarsSoWhite backlash that marked the 2016 and 2015 Academy Awards. Since then, the academy has worked to diversify its largely white and male membership, adding several thousand new members and opening the academy internationally.