NFL team owner, human trafficking and faith-based communities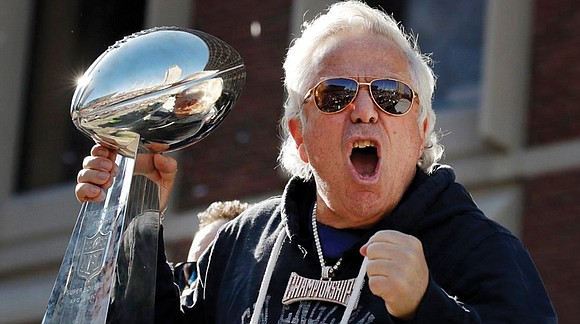 Q: What can faith-based groups do about human trafficking?
A: First, as communities of faith, we must become adept at identifying those in our communities who are most susceptible to the lures of a trafficker. Once we discover those who are marginalized or stigmatized and enter into their lives, it makes us better positioned to identify where force, fraud or coercion — the means of human trafficking — intersects with their vulnerability.
We can learn the red flags. We have to stop seeing people through a transactional lens, where we view people as problems to be solved. Instead, through the context of relationship, we can see our vulnerable neighbors as people — people who can be loved.
Q: Can you give me an example of how a faith community has helped stop human trafficking?
A: A friend of mine is a pastor whose church in Ridgewood, Queens, in New York, works with immigrants in his community. One day he was handing out coats to the most vulnerable in the area. A young woman came in for assistance. He found out that she had a job at a massage parlor next door.
About a month later, someone told him about a brothel advertisement that had been shared on their community Facebook page. It was the same woman to whom he had given a coat.
He connected with local law enforcement who began an investigation. His suspicions were right. What began with one pastor recognizing a need eventually led to 24 illicit massage parlors closing.
Q: Anything else you'd like to share?
A: I want to see people all over the country realize that we may not be able to do everything, but we can all do something. But before I could ever be a part of the solution to human trafficking, I had to realize that I was part of the problem. I, too, was investing in a culture of brokenness, not through soliciting prostitution, but in the food I ate, the clothing I wore and the entertainment I consumed. I needed to repent from that.
Mr. Kraft may have been unintentionally perpetuating a larger systemic issue.
We have to really have our eyes open to the vulnerable around us. You will see most clearly the exploitation of vulnerability when you are focused on loving the vulnerable.