Fallout continues from college admissions scandal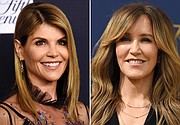 LOS ANGELES
Colleges and companies moved swiftly this week to distance themselves from employees swept up in a nationwide college admissions scheme, many of them coaches accused of taking bribes as well as prominent parents accused of angling to get their children into top schools by portraying them as recruited athletes.
That celebrities were among the accused parents — actresses Lori Loughlin and Felicity Huffman headline the list — created much buzz, but other parents charged included people prominent in law, finance, fashion, manufacturing and other fields — people who could afford the steep price.
At least nine athletic coaches and 33 parents were among those charged Tuesday in the scheme that federal authorities called the biggest college admissions scam ever prosecuted by the U.S. Justice Department.
Some parents spent hundreds of thousands of dollars, as much as $6.5 million, to guarantee their children's admission at the nation's most elite schools, officials said, including Yale, Stanford, Georgetown, Wake Forest, the University of Texas, the University of Southern California and the University of California at Los Angeles. All told, federal authorities said the parents collectively are accused of paying an estimated $25 million in bribes.
"These parents are a catalog of wealth and privilege," U.S. Attorney Andrew Lelling said Tuesday in announcing the results of the investigation code named Operation Varsity Blues.
The scandal is certain to inflame long-standing complaints that children of the wealthy and well-connected have the inside track in college admissions — sometimes through big, timely donations from their parents — and that privilege begets privilege.
Among the parents charged was Gordon Caplan, of Greenwich, Conn., co-chairman of the law firm Willkie Farr & Gallagher based in New York. Mr. Caplan "will have no further firm management responsibilities," the firm said in a statement Wednesday.
Telephone messages seeking comment have been left with Mr. Caplan, who is accused of paying $75,000 to get a test supervisor to correct the answers on his daughter's ACT exam after she took it.
Hercules Capital, a Palo Alto, Calif., hedge fund, announced Wednesday it was replacing its leader, Manuel Henriquez, who has been arrested in New York City and released on $500,000 bail. Mr. Henriquez will still hold a seat on the board and serve as an adviser, Hercules officials said.
Mr. Henriquez and his wife, Elizabeth, of Atherton, Calif., were charged with participating in the scheme on four occasions for their two daughters. They were also charged with conspiring to bribe Gordon Ernst, former head tennis coach at Georgetown University, to designate their older daughter as a tennis recruit to facilitate her admission and with making a $400,000 contribution to a charity to help her get admitted to the school.
Georgetown said Mr. Ernst hadn't coached there since December 2017 after an investigation found he violated university admissions rules. The University of Rhode Island says Mr. Ernst, who was hired as head women's tennis coach in August, was placed on administrative leave.
At a court hearing Tuesday in Maryland, a federal magistrate freed Mr. Ernst on $200,000 bond. His lawyer, Michael CitaraManis, said his client isn't a flight risk. Mr. Ernst had planned to attend a job interview in Toronto soon, he said, "although I don't know the impact from these proceedings."