Personality: Mary R. Sadovszky
Spotlight on chair of CancerLINC's Bags & Bourbon Benefit
3/22/2019, 6 a.m.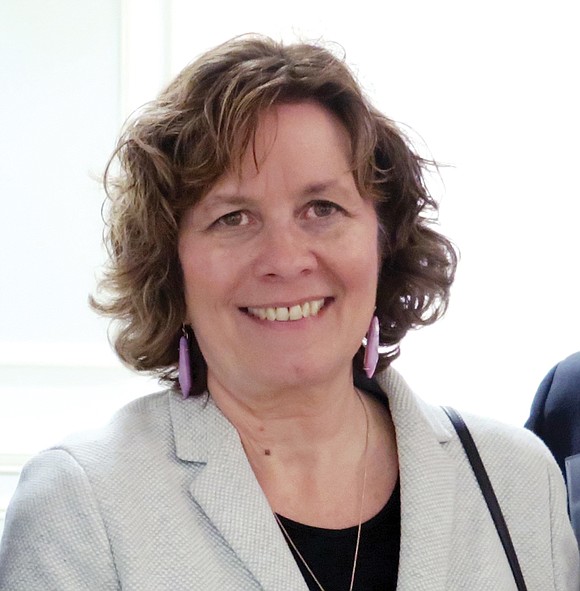 In addition to the main attraction of handbags, the Bags & Bourbon Benefit will include casino games and a bourbon bar, Ms. Sadovszky says. There also will be raffles and a new mobile bidding app so that guests won't have to be at the auction table during the bidding, she notes.
"I think everybody will have a lot of fun. The bottom line is this is all for CancerLINC," she says."Our staff and vast network of attorneys and financial professions work daily to ensure that no cancer patient goes without necessary support services."
Meet this week's Personality and cancer awareness advocate, Mary R. Sadovszky:
No. 1 volunteer position: Chair, CancerLINC's Bags & Bourbon Benefit, a live and silent auction.
Occupation: Accounting supervisor at Old Dominion Electric Cooperative.
Date and place of birth: Dec. 9 in Richmond.
Current residence: Henrico County.
Education: Collegiate School and Mary Baldwin College.
Family: Husband, John; one son, Zachary, 26.
When and why I became involved with CancerLINC: I became involved with CancerLINC in 2012 in helping to plan the 2013 benefit. I love CancerLINC's mission. I think everyone is touched in some way by cancer and this has been my way of doing something to help.
CancerLINC's mission: CancerLINC eases the burden of cancer by providing people and families assistance, education and referral to legal resources, financial guidelines and community services.
Why this organization is important: CancerLINC is such a different organization. They deal with the legal and financial issues that can arise with a cancer diagnosis. This is something that many people don't think about but can really affect the cancer patient. All of CancerLINC's volunteers work to ease the minds of their clients so the patient and their families can focus on beating the disease.
How I find time to support CancerLINC: Since I work during the day, I spend many evenings and weekends working on this event. This is such an important organization and a really fun event so most of the time it doesn't feel like work.
How I start the day: I am definitely a morning person. I always wake up very early. I go for a 2- to 3-mile walk most mornings with my dog, Emma. It is a great way to start the day. It is very quiet and peaceful and gives me a chance to clear my head and reflect on the things I need to do that day.
The three words that best describe me: Caring, witty and dependable.
Best late-night snack: Chocolate is always a good snack. If I'm having a bad day, I have even more chocolate.
If I had more time, I would: Love to be able to travel more. I've been to a few places in Europe, but I would like to spend more time visiting many of the historic cities there.
Something I love to do that most people would never imagine: I like to make jewelry. I haven't had much time lately to make any, but would love to start working on it again. I do find it to be very relaxing.
A quote that I am inspired by: "You can't stay in your corner of the Forest waiting for others to come to you. You have to go to them sometimes." ― A.A. Milne, "Winnie-the-Pooh"
How I unwind: Last year, my husband and I purchased a couple of bicycles. I can't wait for the weather to get warmer so we can start riding again. We also started hiking and try to go somewhere new each month. It's fun and relaxing, especially when we take the dogs.
The person who influenced me the most: My father has had the biggest influence on my life. I definitely got my strong work ethic and love of family from him.
Book that influenced me the most: During the past few years, I have enjoyed reading "She's Got Issues" and "Brave Enough" by a local author, Nicole Unice. I am currently reading her newest book, "The Struggle is Real."
Next goal: Last year, I became involved with Jobs for Life. I was so lucky to work with two amazing students. I'm taking a break this session to concentrate on the CancerLINC event, but am planning on getting more involved in April.