America's 'national pastime' forges bonds, records between fathers and sons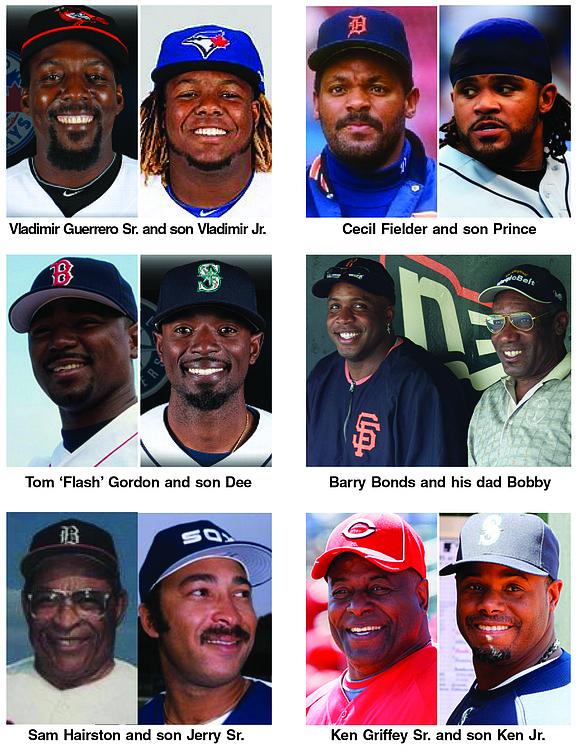 Prince was a regular around the Detroit clubhouse and, at age 12, walloped a pre-game blast into the Tiger Stadium upper deck off Tigers third base Coach Terry Francona in 1996.
Prince, a first baseman like his dad, played in the big leagues from 2005 to 2016, leading the NL in homers in 2007 and MLB in runs batted in during 2009.
Now get this: Cecil Fielder had a career total of 319 homers. Prince's career total was the same, 319. Like father, like son.
Bobby Bonds-Barry Bonds
Father Bobby Bonds played alongside the great Willie Mays in San Francisco — Bobby in right field, Willie in center field.
While overshadowed by Mays, Bobby slugged 332 home runs and was a three-time All-Star in a career dating from 1968 to 1981.
Barry grew up in California and starred at Arizona State University before moving on to re-write the big league record books with the Pittsburgh Pirates and, eventually, with his dad's team, the San Francisco Giants.
While Bobby is linked to Mays, Barry is in the same sentence with Hank Aaron. In 2007, Bonds swatted his 756th home run, passing Aaron on the all time list.
Barry's career total of 762 "dingers" is tops among everyone who ever played the game.
Ken Griffey Sr.-Ken Griffey Jr.
The elder Griffey was a key component of the Cincinnati Reds' "Big Red Machine" in the mid-1970s.
Ever present around the Reds' clubhouse during that era was Griffey Jr., aka "The Kid."
Griffey Sr. was a big leaguer from 1973 to 1991 and enjoyed an illustrious career. He was a three-time All-Star and member of the 1975 and 1976 World Series champions.
Outdoing his dad, "The Kid" was a 13-time All-Star and 10-time Golden Glove winner while clubbing 630 homers — the sixth most of all time.
There have been others and there will be more.
Just think: The next time you spot a father pitching balls with his son in the neighborhood, you just might be seeing the next Griffey or Guerrero in the making.
Among baseball people, it's agreed that "it all starts in the backyard."