Nation's top teacher celebrated in whirlwind of appearances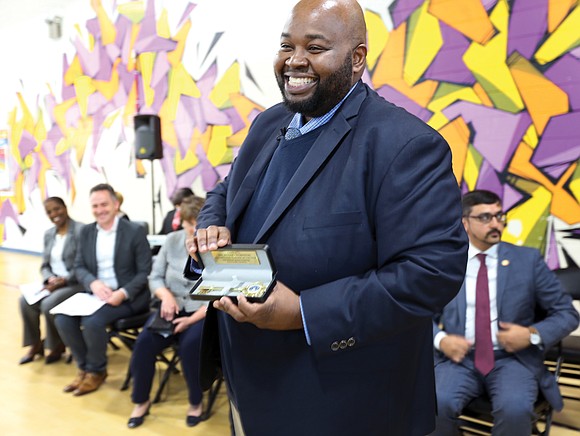 If the nation's president won't honor you publicly as National Teacher of the Year, at least your state senators and district's congressman will.
Congressman A. Donald McEachin who represents the Richmond area, put forth a resolution honoring Rodney A. Robinson, the 40-year-old history and social studies teacher at the Virgie Binford Education Center at the Richmond Juvenile Detention Center.
The resolution, to be presented to Mr. Robinson on Thursday during a meeting with Rep. McEachin in Washington, states in part, "…the House of Representatives … congratulates and honors Rodney Robinson on receiving the 2019 National Teacher of the Year Award."
Mr. Robinson's tenure with the title that has catapulted him into the national spotlight officially began with a ceremony Monday in Washington.
The Council of Chief State School Officers, which organizes the awards program, said they understood President Trump would not attend the ceremony, which generated news stories throughout last weekend about the president foregoing the tradition of presenting the award that began with President Harry S. Truman in 1952.
Instead, U.S. Education Secretary Betsy DeVos presented Mr. Robinson with his award at Monday's ceremony, which also was attended by state winners in the annual Teacher of the Year program. The media was not allowed to attend.
However, according to a text provided by the U.S. Department of Education, Ms. DeVos told the educators, "Teachers do a lot, some of which is visible, but much of which goes unseen. Well, I'm here to say, we see you."
Sometime after the ceremony, President Trump met with Mr. Robinson alone in the Oval Office before other state winners joined them. Two of the state award winners boycotted the ceremony, however, stating they wouldn't support an administration whose policies they feel have harmed their immigrant, refugee and LGBTQ students.


The teachers' group also met with Vice President Mike Pence.
Last year, President Trump presented the award to Mandy Manning, an English teacher from Washington state who teaches refugees and immigrants. She surprised the president during the ceremony by handing him a stack of 45 letters from some of her students, many of whom were from countries on President Trump's travel ban list.
Mr. Robinson later told the media that President Trump said "he was happy that I was giving the kids a second chance."
Mr. Robinson also met Tuesday in Washington with U.S. Sens. Mark R. Warner and Tim Kaine of Virginia.
"It's clear that Mr. Robinson has devoted his career not just to teaching, but to making meaningful change in the lives of students who need it the most," Sen. Warner said in a statement following the meeting. "I am proud that teachers in Virginia and all across our nation can look to Mr. Robinson as an example of an educator who uses his classroom to actively tackle a larger structural issue in our society." 
Life has been a whirlwind for Mr. Robinson since he was introduced to the nation on April 24 as the 2019 National Teacher of the Year on "CBS This Morning," where he was interviewed by Gayle King on the set of the New York City television studio. Since then, he has navigated non-stop media interviews, accolades and phone calls and returned to his Richmond home, where he was feted in a reception last Thursday at the Virgie Binford Education Center.
A bevy of people attended, including Richmond Public Schools Superintendent Jason Kamras, Richmond Mayor Levar M. Stoney, a host of local and state elected officials, officials from his alma maters of Virginia State and Virginia Commonwealth universities, colleagues, former students, family and friends.
"We cannot be more thrilled and more overjoyed," Mr. Kamras said with a huge smile and revealing that he also knew that Mr. Robinson had been selected for the national award, but had kept it secret for six weeks.
"This is a man best described as love," Mr. Kamras said of Mr. Robinson. "He loves his students as if they are his own children because he sees in them the greatness they have today and the greatness they will become."
Mr. Robinson fiercely believes in equity in education to ensure funding for students to receive the services they need to be successful.
"I also represent cultural equity so students have (teachers) who look like them, sound like them and appreciate their culture, and show them they can be whatever they want to be," Mr. Robinson said to the cheering crowd at the reception.
Mr. Robinson will spend the next 12 months speaking at schools and educational events around the country and internationally, "advocating for kids and for cultural and economic equity," he said.
RPS will continue to pay his salary. His travel and speaking engagements will be taken care of by CCSSO.
Last week, while Mr. Robinson was in the New York airport, he received a call from Jahana Hayes, the 2016 National Teacher of the Year from John F. Kennedy High School in Waterbury, Conn. She was elected to the U.S. House of Representatives in November, becoming the first African-American Democrat to represent Connecticut in Congress.

Mr. Robinson said Rep. Hayes informed him, "This is a unique experience. You will see most things teachers don't experience. You have a vision. You are to bring CCSSO and other people along with you to ensure them that this is your direction and understand the journey."
Before Mr. Robinson's celebration began last Thursday, he went to Walmart on Forest Hill Avenue. There, he was greeted by well-wishers in the parking lot and in the store.
A store clerk recognized him and asked if he was going to compete for the world teacher of the year award. As he did a Google search with the clerk, Mr. Robinson discovered Peter Tabichi, a science teacher and Franciscan brother in a school in a remote village in Kenya, was recognized in March with the 2019 Global Teacher Prize. It came with a $1 million award.
Mr. Robinson and the clerk were surprised. The clerk was a native of Kenya. "He was happy that a black man could represent the world," Mr. Robinson said, recounting the story to the audience at Binford Education Center.

"I'm going to apply for the global teacher award," Mr. Robinson said.