Richmonder Ferrell raids No. 4 spot in NFL draft, headed to Oakland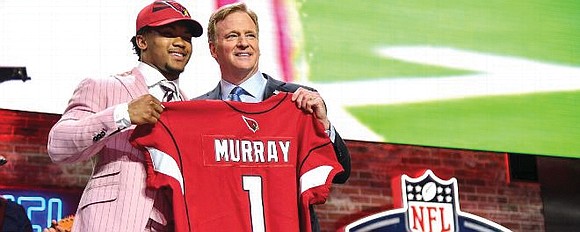 Burdened with the NFL's most anemic pass rush, the Oakland Raiders have turned to a Richmonder for first aid.
The Raiders drafted former Benedictine College Preparatory school and Clemson University defensive end Clelin Ferrell in the first round as the fourth overall pick during the NFL draft last week in Nashville.
Ferrell celebrated his surprisingly high selection at home in Richmond surrounded by family, friends and an ESPN camera crew.
With little delay, he jetted to Oakland for his initial press conference. He said he'll be proud to wear the Raiders' famed silver and black.
"I think of toughness. I think of effort. I think of people who aren't afraid of the work and will do whatever it takes to get the job done," he told the media.
The 6-foot-4, 264-pound Ferrell becomes the highest drafted local player since Ken Willard of Varina High School and the University of North Carolina was plucked No. 2 overall in 1965 by the San Francisco 49ers.
Oakland is in dire need of help on the defensive front. The Raiders recorded just 13 sacks last year. That was 15 less than the next lowest figure.
That's where Ferrell does his best work. During his Clemson career, he had 55 tackles for losses and 27 sacks, including 11.5 this past season while helping the Tigers to the National Championship.
Pass rushers are well compensated. Ferrell's rookie annual salary figures to be $20.7 million.
It hasn't always been an easy ride for Ferrell. His father, Cleavester, died when Ferrell was 13. He also missed his senior season at Benedictine with a torn ACL, or anterior cruciate ligament.
Before Benedictine, Ferrell played for the Hening Athletic Association of the Chesterfield Quarterback League in 2010 and was on the Senior All-Star Team.
Both of his parents were career military. His father served 24 years in the Army, achieving the rank of staff sergeant. His mother, Faye, served 22 years, becoming a first sergeant.
Clelin, however, was not a military brat. He lived his whole life in Richmond prior to heading off to Clemson.
His time in Oakland could be limited. The Raiders plan to move to Las Vegas for the 2020 season, pending completion of the team's new stadium.
•
While Ferrell was drafted several slots ahead of what prognosticators predicted, there was no surprise at the No. 1 overall pick.
As expected, the Arizona Cardinals picked University of Oklahoma quarterback Kyler Murray, the Heisman Trophy winner.
Since then, Arizona has traded its 2018 top pick, quarterback Josh Rosen, to the Miami Dolphins for draft picks.
Murray becomes the first athlete in history to be picked in the first round of both the NFL and Major League Baseball drafts. He was the ninth overall pick by the Oakland Athletics in 2018.  
Murray, who accounted for 5,362 yards and 54 touchdowns this past season for the Oklahoma Sooners, becomes the fifth African-American quarterback drafted at No. 1. Others were Jameis Winston from Florida State by the Tampa Bay Buccaneers in 2015; Cam Newton from Auburn University by the Carolina Panthers in 2011; JaMarcus Russell from Louisiana State University by the Oakland Raiders in 2007; and Michael Vick from Virginia Tech by the Atlanta Falcons in 2001.