Richmonder Ferrell raids No. 4 spot in NFL draft, headed to Oakland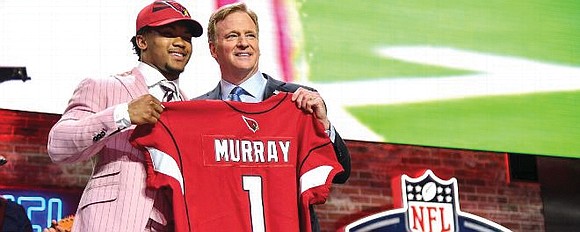 •
The Washington NFL team's first draft pick (15th overall), quarterback Dwayne Haskins out of Ohio State University, figures to have a strong cheering section at FedEx Field. 
Rarely is a player drafted by his hometown team, but that's what happened in Haskins' case.
The 6-foot-4, 218-pound Haskins was a high school All-American at the Bullis School in Potomac, Md., passing for 5,364 yards and 54 touchdowns.
Haskins waited his turn at OSU, then made the most of his one season as starter. After backing up J.T. Barrett in 2017, he emerged as an All Big 10 performer in 2018, setting numerous passing records and becoming a Heisman finalist.
In Washington, the rookie will compete with holdover Colt McCoy and Case Keenum (acquired in a trade) for a first string role.
The last quarterback Washington took with its first pick was Robert Griffin III out of Baylor University in 2012. Griffin was the No. 2 overall pick in 2012. Before that, Washington's last No. 1 quarterback pick was Tulane University's Patrick Ramsey in 2002.
•
Most top picks nowadays come from the prominent Power Five conferences.
The Houston Texans dared to differ this year by selecting offensive tackle Titus Howard (23rd overall) from Alabama State University, a HBCU.
Howard, 6-foot-5 and 322 pounds, was a high school quarterback who has bulked up some 87 pounds in college. He credits his fiancée's chicken spaghetti for his physical transformation.
Howard impressed NFL scouts in a regular season game against Auburn last season, and also in the Senior Bowl and NFL Combine.
This was long overdue for HBCUs. The last first round picks from historically black colleges and universities were Jackson State University's Sylvester Morris and Rashard Anderson in 2000. Morris was picked 21st by the Kansas City Chiefs and Anderson, 23rd, by the Carolina Panthers.
• 
News wasn't as good around Bowie State University. Bulldogs quarterback Amir Hall was not drafted, but will attempt to sign as a free agent.
Hall, who broke most CIAA passing records, was named the Black Colleges Player of the Year for the past two consecutive seasons, as well as CIAA Offensive Player of the Year.