Maggie Walker Governor's School mural to be unveiled Saturday
5/18/2019, 6 a.m.
The Maggie L. Walker Governor's School will unveil and celebrate new murals paying tribute to the school's namesake with a public ceremony noon to 2 p.m. Saturday, May 18, at the school, 1000 N. Lombardy St.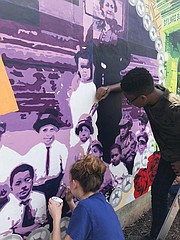 The murals featuring the famous Richmonder who was the first African-American woman in the U.S. to found and lead a bank are the work of artist Colleen Hall and school alumni.
Details: Ms. Hall, colleenphall@gmail.com, or Irvin P. Charles, groovealways@icloud.com.