Bryson Bruce goes deep to play Thomas Jefferson in 'Hamilton'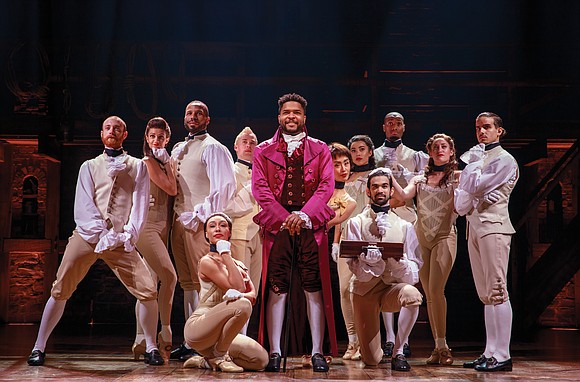 This is exactly what critics point to as the allure of "Hamilton" — viewing these well-known historic figures as they are reimagined through a multicultural cast without compromising the factual history.
This bold but delicate balance has garnered "Hamilton" consistent sold out engagements and numerous awards, including 11 Tony Awards, a 2016 Grammy Award for Best Musical Theater Album and the 2016 Pulitzer Prize for Drama.
It also is the likely reason Richmond theater enthusiasts have shown similar excitement at the box office.
"We're expecting record-breaking crowds," said Cindy Creasy, Broadway in Richmond spokesperson. "The response to this show has exceeded our expectations."
Out of respect for the numbers of people who want to see the production, the show's producer has announced a digital lottery for tickets beginning with the first performance on Nov. 19 through the end of the run on Dec. 8.
For every performance, 40 tickets will be sold for only $10 each. The digital lottery will open at 11 a.m. on Sunday, Nov. 17, for tickets to the opening performance on Tuesday, Nov. 19. Subsequent digital lotteries will begin two days prior to each performance. Officials are asking that patrons use the official app for Hamilton on the Apple App Store or the Google Play, or register online for the lottery at hamiltonmusical. com/lottery.
The continuing popularity of "Hamilton is just another part of a dream come true for Mr. Bruce, who in the short five years since his college graduation, has landed roles in two Tony Award-winning musicals.
In 2016, he played the role of Mr. Jefferson in the 20th anniversary tour of the hit show "Rent," and has agreed to continue performing for another year with "Hamilton."
But he still has some unfinished business in New York City, where he now lives. The recently married Mr. Bruce said that while he enjoys touring and bringing this important story to people who are unable to make it to New York, it is still on his bucket list to perform on Broadway someday.
"I'd also like to spend some time with my wife, maybe start a family," he added.
He said he's excited for whatever the future holds.
"I'm not picky," he said. "I really just want to continue in the industry. As long as I'm out there telling stories, I'm happy."