Let localities lead by Mayor Levar M. Stoney
11/22/2019, 6 a.m.
When the Dillon Rule, a law limiting local autonomy, was created in 1868, the opinion was state governments would know how to govern better than localities.
As a leader of local government, it is baffling this argument still holds weight in 2019. Local leaders do the grueling groundwork in their communities every day. They, not the state, are better informed about their residents' needs and should therefore have more authority to create positive change.
Richmond faces wicked challenges. I have met folks living on the margins. I have seen deteriorating school build- ings, roads plagued by potholes, communities threatened by gun violence and families impacted by an inadequate housing supply. But when I try to address these systemic issues, whether through direct intervention or diversifying local revenue streams to provide new funding, my hands are tied.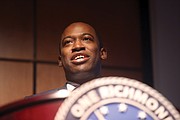 Now, for the first time in decades, Democrats have secured a united government in the Commonwealth. With this new legislative power comes the responsibility to provide localities the authority to address the needs of historically marginalized communities. There are a number of actions they can take that would be immediately impactful.
The state currently preempts localities from regulating firearms in city buildings and spaces including parks. Earlier this year, the Richmond community lost 9-year-old Markiya Dickson after she was tragically shot while playing in a park. Localities know the evidence-based solutions to prevent gun violence. Granting local governments the decision-making power to keep guns out of public spaces should be a core component of common sense gun regulations passed by the General Assembly during the upcoming session.
As the Commonwealth grows, the burden of meeting the need for affordable housing falls on localities. Richmond needs 10,000 affordable units over the next 10 years to meet current and future needs. Affordable hous-ing is a central component of a locality's ability to grow while ensuring current residents are not displaced. Localities need the authority to implement inclusionary zoning, which would create specific affordability targets in local land use codes and ensure new residential developments are inclusive.
Moreover, localities should be able to implement welcom- ing policies for all. Currently, localities lack the legal standing to fully protect the rights of some of their most vulnerable residents or to take important steps that reflect their diversity and values. To solve that problem, the General Assembly should grant authority to allow localities to determine the future of Confederate monuments, either through contextualization or permanent removal. And Richmond City Council should join me in support of Councilman Michael Jones' resolution requesting this authority. The state also should codify non-discrimination laws to protect the LGBTQ community from discrimination on the basis on sexual orientation or gender identification, and protect LGBTQ youths from unnecessary harm by prohibiting the use of harmful conversion therapy in the Commonwealth.
Last, but certainly not least, localities across Virginia are limited in their local taxing authority. In order to address our complex challenges and al- leviate the burden on taxpayers, localities need the authority to decide if they want to diversify their revenue streams.
After decades, state lawmakers have the opportunity to lift the unnecessary burden placed on local governments by expanding local authority to improve the lives of all Virginians. Now, it is their responsibility to make it happen. Now is the time to let localities lead.
The writer is mayor of the City of Richmond.