VCU to play Purdue Friday
Fred Jeter | 11/27/2019, 6 p.m.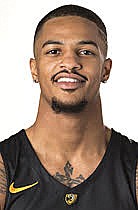 Virginia Commonwealth University's basketball team is off to its best start in school history, but the road ahead is looking rocky.
Coach Mike Rhoades 6-0 Rams will travel to Destin, Fla., on Friday, Nov. 29, to face Purdue University in the Emerald Coast
Classic. Tipoff is 9:30 p.m., with CBS Sports Network coverage.
The winner advances to face the win- ner of the University of Tennessee versus Florida State University game, time to be determined, also on CBS-SN.
VCU's 6-0 start surpasses the 5-0 start by the 1993-94 Rams.
Purdue represents an upgrade in competition. The Big 10 Conference school lost to the University of Virginia 80-75 in overtime in last year's NCAA Basketball Final in Louisville.
The Boilermakers feature 7-foot-3 center Matt Haarms, who had 17 blocked shots through Purdue's first five outings this season.
Purdue entered the week at 3-2, with losses at home to the University of Texas and at Mar- quette University.
VCU conceivably could meet two schools from last year's NCAA Final Four this weekend. Tennessee fell to Purdue in the 2019 semifinals.
All six of VCU's victories have been at the Siegel Center. The Rams will not face a true road test until Dec. 18 when the team travels to the College of Charleston in South Carolina.
Senior guard Marcus Evans, a transfer from Rice University, is VCU's scoring leader with an average of 13.2 points per game.
The Rams'"Havoc"-style, full-floor defensive pressure has been a key to its success so far. VCU has 62 steals compared to 39 for its opponents, and has forced 111 turnovers, compared to 76 of its own.