Frank Lloyd Wright synagogue continues 60 years later as work of art
Adelle M. Banks/Religion News Service | 10/4/2019, 6 a.m.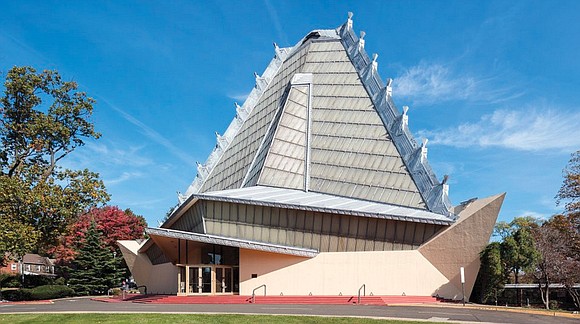 Just before night falls, said Helene Mansheim, director of the synagogue's visitor center, the light from the sunset can turn the sanctuary a golden color.
Designated a National Historic Landmark in 2007, the synagogue is listed by the AIA as one of 17 buildings designed by Mr. Wright that are examples of "his architectural contribution to American culture."
Recently, new sights and sounds have been added to the synagogue, whose name means "House of Peace."
In part to mark the building's 60th anniversary, Beth Sholom's preservation foundation as commissioned a multimedia installation by Philadelphia artist David Hartt that evokes the Jewish and African-American diasporas.
The exhibition, titled "The Histories (Le Mancenillier)," features orchids and other tropical plants, along with tapestries, videos and the music of composer Louis Moreau Gottschalk.
Cole Akers, curator of the exhibition, said the installation reflects how Beth Sholom's congregation, a century old this year, has related to urban development. The congregation began in north Philadelphia in a building that has become the location of Beloved St. John Evangelistic Church in a community that is now predominantly African-American.
"The relationship between these two congregations led Hartt to consider the constant movement of Black and Jewish communities as a result of political, economic, and social currents," Mr. Akers said in an email message.
The exhibition, which opened on Sept. 11, will close Sept. 26 through Oct. 10 around the time of the High Holy Days and reopen through Dec. 19.