'A heavy lift': Religious black voters weigh Buttigieg's bid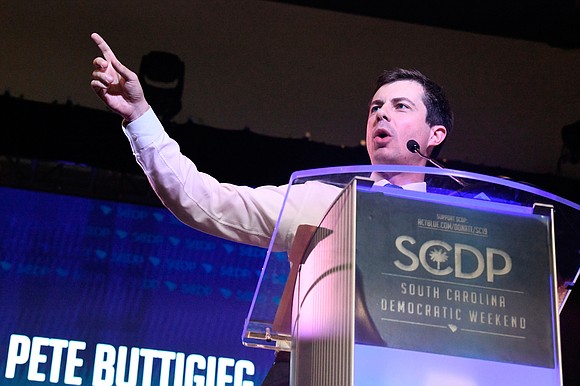 GREENVILLE, S.C. The Rev. Joe Darby, a South Carolina pastor in the African Methodist Episcopal Church, pondered a sensitive question that he knew was on the mind of his congregation. Would black voters be able to reconcile their conservative religious doctrine with voting for a gay candidate for president?
"It's a heavy lift in the black church," said Rev. Darby, who is also a Charleston-area NAACP leader. "Just as nobody who is racist likes to say, 'I'm a racist,' nobody who is homophobic in the black community likes to say, 'I'm homophobic.' "
In South Carolina, the first state with a predominantly African-American electorate, part of the dialogue focuses on a conflict between a cultural openness for same-sex marriage and the deeply held religious convictions that could impede support for the 2020 race's only gay candidate — Pete Buttigieg, the mayor of South Bend, Ind.
The historically diverse field of Democratic presidential hopefuls is overflowing with options. But it is also forcing conversations about the roles, if any, that gender, race and, for the first time, sexuality should play in voters' decisions.
Black voters comprise more than 60 percent of South Carolina's Democratic electorate. But an overwhelming majority of African-Americans — 79 percent, according to a recent Pew study — also identify as Christians, which some church leaders note can contribute to internal strife between their religious convictions and how they feel about a gay candidate, if they think doctrine says it's wrong.
"I'm interested to see how Buttigieg is going to play," said Rev. Darby, adding that the mayor "does the best job of articulating his faith of any of the candidates" but is inherently running up against barriers with those to whom he's still an unknown. "The most damning comment was at a clergy breakfast, and when his name was brought up another guy said, 'Yeah, that's the guy who kissed his husband on TV.' "
Mayor Buttigieg's husband, Chasten, has not traveled to South Carolina to campaign. Chris Meagher, Mayor Buttigieg's spokesman, said voters are still getting acquainted with the mayor, who in August became the first 2020 Democratic candidate to hire a faith outreach director.
"Pete is focused on meeting folks where they are," Mr. Meagher said. "It just means quantity of time and spending time with folks and making sure that he's listening to their concerns and that they're hearing his plans and his policies and his values."
Besides his overt expressions of his faith, Mayor Buttigieg also has offered a broad policy agenda for African-Americans and has been outspoken on the issue of race. But he consistently polls in the low single digits among black voters.
At 37, Mayor Buttigieg has acknowledged he has ground to make up in terms of making his case to African-American voters in South Carolina, where he attended a Black Economic Alliance forum this summer. In mid-August, he sat for an interview with black church leaders in Atlanta. He later returned to South Carolina for a series of town halls and to attend an A.M.E. church service.