HOME to begin eviction diversion program
Richmond's first ever program aimed at helping people avoid eviction is about to get a home base.
At its upcoming meeting Monday, Sept. 9, City Council is expected to approve legislation awarding a grant of $485,140 to fair housing watchdog Housing Opportunities Made Equal to operate the pioneering program.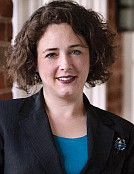 Heather M. Crislip, president and chief executive officer of HOME, expects the program to be underway by October. She stated Wednesday that notices about the program will start being issued to families hit with an eviction notice next week.
Under the grant's language, HOME would be able to pay up to 50 percent of the overdue rent to assist an eligible family, while helping the family set up a payment plan for the balance if the landlord agrees.
Participating families also would get financial counseling and be linked to other government and nonprofit resources, according to the legislation.
Those assisted must have only two late payments in the previous six months or only three late payments in 12 months, the ordinance states.
Mayor Levar M. Stoney hopes the program can make at least a tiny dent in the flood of families and individuals who face eviction in Richmond.
According to one study, Richmond ranks among the top communities in the nation for the forced removal of tenants, mostly for nonpayment of rent.
Evictions definitely keep the courts busy. Central Virginia Legal Aid surveyed all evictions during a 30-day period this summer. During that time, 1,665 cases were filed by landlords, with 95 percent of the cases involving unpaid rent ranging from $15.78 to $18,230 and averaging $989. Added into the judgments awarded landlords were court costs, attorney fees and late fees that collectively averaged $370.
Ms. Crislip said HOME estimates assisting 300 families the first year and ramping up to 500 families after that. HOME also has begun fundraising to increase support for the program.

The program is aimed at mainly helping working people who have fallen behind on their rent because of illness, accidents or other unexpected disruptions by creating a payment plan for the overdue rent.
The landlord must agree to the plan and continue the eviction case in court in exchange for setting up an overdue rent payment plan, the program states.
Those eligible for the assistance must provide 25 percent of back rent when their case first comes up and pay off the remainder in three equal installments over a 90-day period, the program states. Participants also must keep up with the current month's rent.
Martin D. Wegbreit, director of litigation for Central Virginia Legal Aid, said his organization would work closely with HOME and the clients seeking to craft the agreements.
CVLA already has an attorney assigned at the courthouse to assist families facing eviction with the legal ins and outs, a pilot project that also is among the first of its kind.

Ms. Crislip acknowledges that while only a small fraction of the more than 9,000 renters who face eviction can be assisted under the program, it will help some people avoid the instability that results from a forced move.