Israeli company introduces recycling bins for CVWMA made from recycled waste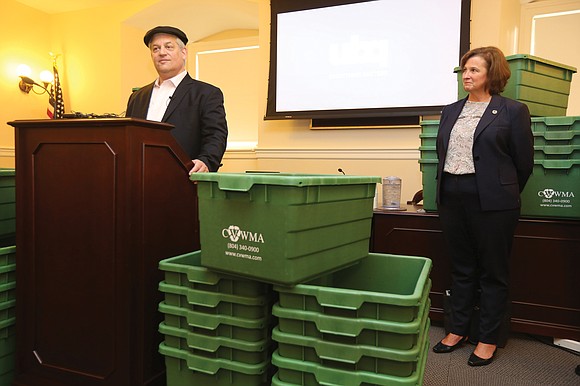 Plastic made from banana peels, dirty diapers, discarded vegetables, mixed paper and other household waste?
That's right.
And the proof was introduced in Richmond last week in the form of new recycling bins that incorporate such recycled waste into a revolutionary material that UBQ Materials, a pioneering Israeli company, has developed.
State and area officials joined UBQ Materials officials on Aug. 28 to showcase the bins as well as the company's thermoplastic material that can help reduce gases contributing to climate change and solve the problems of plastic waste polluting oceans and other waters.

The occasion also celebrated the regional recycling entity, Central Virginia Waste Management Authority, of which Richmond is a member, for being the first agency in the nation to purchase bins made with the material.
CVWMA just received an initial 2,000 bins for distribution to its customers, according to Kim Hynes, CVWMA's executive director.
According to UBQ, the new bins are comprised of at least 12.5 percent of converted household waste mixed with 12.5 percent recycled plastic and 75 percent virgin plastic.
The bins represent the first uses for UBQ's material, which the company is working to incorporate into commercial and industrial products.
According to UBQ, anything from auto parts, furniture, computer casings and other common products now made of plastic can incorporate 10 to 70 percent of the new recycled material without requiring any change in the production process.
Ms. Hynes credited two state legislators, Republican Senate Majority Leader Thomas K. Norment of James City County and House of Delegates Democratic Minority Leader Eileen Filler-Corn of Springfield, with discovering UBQ during a recent state trade mission to Israel and spreading the information.
Virginia appears to have a leg up in potentially attracting a production factory as UBQ seeks entry into the United States. The company's honorary chairman and a key investor, Rabbi Yehuda Pearl, is better known as the founder of the highly successful Sabra Dipping Co., whose humus production plant is located in Chesterfield County.
According to public information about UBQ, the company is one of nearly a dozen Israeli firms seeking ways to make plastics less of a threat to the environment.
Founded in 2012 and based in Tel Aviv, UBQ raised $30 million, attracted a range of scientific and business talent and created a test plant in the Negev desert to prove that it could transform household waste into a plastic-type material that can partly replace petroleum-based plastics.

Since 2018, the company has emerged with its solution. Along with industrial and commercial items, the company also is touting the prospect of its material being used to make bricks and replace wood in home and office construction. It is now working with packaging companies, automotive firms and construction material manufacturers to infuse its product into finished items, with recycling bins being the first product.

While the process is patented and remains secret, the company has stated publicly that it separates out items such as glass and metals that it sends to other recycling processors and then reduces the remaining material into basic components that can be reconstituted and bound together to form the plastic-like material. The material is turned into pellets that can be used in existing manufacturing systems.