Saving the past
Bradford family descendants, supporters work to protect old Sons and Daughters of Ham Cemetery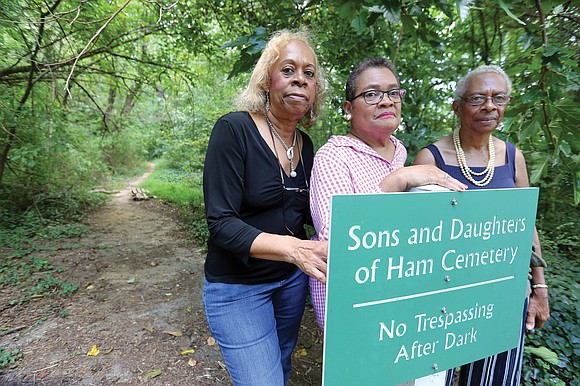 Dense woods fill much of a largely uncelebrated and essentially abandoned African-American burial ground in Henrico County that had been best known in recent years as a practice area for University of Richmond runners.
While they no longer use it, their pounding feet kept a path winding through the graveyard clear of vegetation.
The untended state of the cemetery could change now that a handful of people are getting involved with it, just as improvements have come to previously neglected private and public African-American cemeteries such as the Evergreen and East End cemeteries on the city's eastern border and the Barton Heights cemeteries in North Side.
In the case of the Henrico cemetery located off Chandler Road and next door to the city-owned Bandy Field, a retired Richmond pharmacist and two great-granddaughters of Moses Bradford Jr., one of the individuals buried at the site, are now on a restoration mission for the cemetery created around 1899 by a once-flourishing but now-defunct group, the Sons and Daughters of Ham.
"There is so much this one acre can teach," said Marianne R. Rollings, 79, the former pharmacist who is lending her passion and experience as an author and editor to this cause.
Worried that UR might revive its 1998 effort to gain the property — though the school denies any such effort is underway — Ms. Rollings joined forces in April with the Bradford great-granddaughters, Carolyn W. Moten and Diane W. Jones, to create the nonprofit Friends of Sons and Daughters of Ham Inc.  
The trio and other supporters have operated in secrecy, but now are going public in an effort to bring awareness to the cemetery and the need for assistance in its restoration.
They plan to reach out to people Saturday, Sept. 14, when the Richmond Symphony is scheduled to take over Bandy Field for a community concert.
Ms. Rollings said the group is working on having a booth to offer information on the beneficial group and the cemetery, potentially connect with people who have relatives buried there or meet people who have an interest in helping restore and preserve the property as sacred ground.
"We want to see the cemetery protected and restored," Ms. Jones said.
Only about 18 people are identified as being interred in the cemetery, Ms. Rollings said. However, she added that a survey done years ago indicated there might be as many as 50 people buried there. Those identified include members of the Bradford family, along with members of the Burleigh, Overton and Sears families.
A lifelong resident of the area, Ms. Rollings feels a connection with the property through Ms. Jones' and Ms. Moten's mother and grandmother, Ruth Truman Winston and Grace Bradford Truman, who worked for Ms. Rollings' family at their Richmond home.
Growing up, "they were like aunts to me," said Ms. Rollings, who also has known Ms. Jones and Ms. Moten much of her life.
Ms. Rollings recalls attending music- and dance-filled cookouts and get-togethers at Bandy Field held by Westwood Baptist Church members, including the Truman and Winston families.