Gov. Northam appoints 'diversity czar,' boards in upholding promise after blackface scandal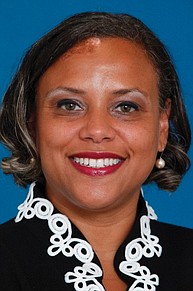 Dr.Janice Underwood will be the state's first "diversity czar."
Gov. Ralph S. Northam on Monday tapped the former director of diversity initiatives at Old Dominion University to serve as the new state director of diversity, equity and inclusion that he created as part of his efforts to recover from a blackface scandal.
Dr. Underwood has been tasked with developing a framework "to promote inclusive practices" in hiring and policy development in state government, the governor stated.
She also is to create a plan to "address systematic inequities" and use feedback from state workers, community leaders, business groups and others to generate policy initiatives, he stated in adding Dr. Underwood to his leadership team.
Dr. Underwood's appointment follows Gov. Northam naming 18 other people to the state's first African-American Advisory Board that is to make recommendations on issues important to the community — similar to existing advisory boards for Latinos and Asians.
The governor also named nine legal experts to a separate Commission to Examine Racial Inequity in Virginia law. That commission will include former Richmond Commonwealth's Attorney Michael N. Herring and former Richmond General District Court Judge Birdie H. Jamison.
The racial inequity commission is to offer recommendations for changes in state law and administrative regulations for the General Assembly and state agencies to consider in 2020.
Gov. Northam called the appointments part "of the ongoing work to right historical inequities in areas like education and health care" and business support.
The recent wave also represents the latest sign of Gov. Northam's rebound from the blackface scandal that nearly crashed his political career in ruins. It also signals that he retains the trust and confidence of many African-Americans in the state.
Rejecting widespread calls for his resignation after his page in his 1984 medical school yearbook was found to show a photo of a person in blackface and another in Ku Klux Klan regalia, Gov. Northam pledged to use his remaining tenure in office — through early January 2022 — to make Virginia more equitable and inclusive, with a focus on the African-American community.
Among other things, he pledged to name a director of diversity. He called Dr. Underwood an ideal choice for the role.
Her "background as an educator, leader and collaborator, as well as her experience promoting inclusive policies and directing diversity initiatives, make her the perfect person," he stated. "I look forward to having her as a partner in this important work."
Dr. Underwood, who earned her bachelor's and master's degrees at Hampton University and her doctorate from Old Dominion University, said she would be "dedicated to working with Virginians to promote lasting, institutional change at all levels of state government."
She has worked on a national board that certifies special education teachers and been involved with the Virginia Community College System and other groups to bolster racial and cultural awareness and staff diversity.
Along with other tasks, she also will work with the new African-American Advisory Board, whose 18 members include Dr. Cheryl Ivey Green, executive minister of First Baptist Church of South Richmond.