COVID-related furloughs push unemployment claims to new highs
Jeremy M. Lazarus and Ronald E. Carrington | 4/9/2020, 6 p.m.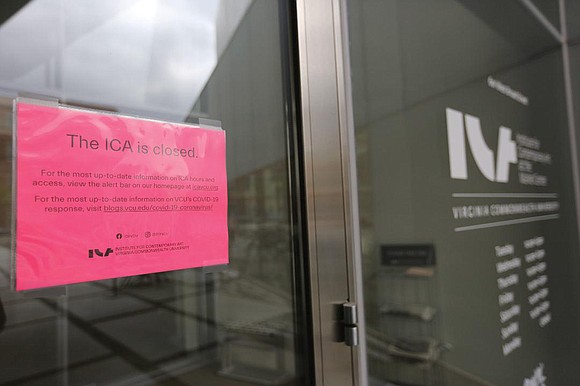 Phillip Patterson has worked in various positions at the Marriott Hotel in Downtown for the past eight years – housekeeping, bellman, shuttle driver and maintenance engineer.
Elton G. Christian Jr., a veteran cook, has been serving up savory barbecue, ribs and brisket at Pig and Brew, a restaurant in South Side, for the past two years.
Both never expected to be laid off.
But suddenly, they have joined the growing legions of the unemployed who have lost jobs because of the business-killing coronavirus. The virus is creating widespread damage to a previ- ously robust economy in the Richmond area and beyond.
While hiring is still underway for health care workers, delivery drivers, grocery store employees, postal workers, sheriff's deputies, police officers and other government positions, others jobs are being swept away, including those of restaurant employees and other service workers and those in the travel and tourism industry.
Like state agencies across the country, the Virginia Employment Commission has been slammed with applications for unemployment benefits from workers who have lost their paychecks as public, private and nonprofit entities downsize or close.
While new data will be released Thursday, the impact of social distancing and shelter-in-place directives can be seen in the rise in the number of filings for unemployment.
In Richmond, for example, 112 people filed for unemployment in the week ending March 14. But between March 14 and March 28, more than 7,500 people filed for unemployment, the VEC reported. That includes 3,070 people who filed between March 14 and March 21 and 4,504 people who filed between March 21 and March 28.
The same surge in unemployment claims can be found in Chesterfield County, where 83 claims were filed in early March. But claims surged to 1,970 in the third week of March and 4,219 applications in the fourth and final week of March.
In Henrico County, unemployment claims jumped from 79 in early March to a total of 6,600 in the final two weeks of the month.
In a region that reported nearly 700,000 people employed in February, the loss of 21,000 jobs is not an immediate disaster. But it is the speed of the losses and the potential of a continuing surge that has many people concerned and has led the federal government to beef up and extend benefits an extra 13 weeks.
Statewide, the VEC reported that a record 112,497 people filed for unemployment in the final week of March. That's the largest number of initial claims in a week since records began being kept. It also added to the record 46,277 people who filed for unemployment statewide in the third week of March.
Previously, initial weekly filings from more than 20,000 people were considered outsized.
Again, in a state where 4.3 million people were employed in February, the numbers are more a harbinger of worsening business conditions in a broad swatch of the economy.
Nationally, as of March 28, more than 6.6 million people had filed initial unemployment claims, the highest number in one month since figures began being reported.