Nursing homes on front lines battling the coronavirus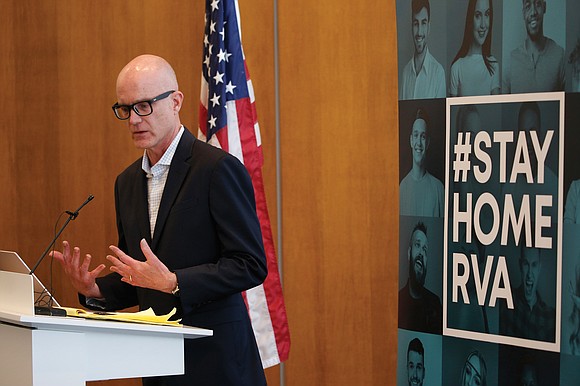 Nursing homes are hot spots for the spreading coronavirus pandemic in Virginia, with 60 of the state's 108 outbreaks occurring in long-term care facilities, state Health Department numbers show.
Roughly 10 percent of the state's 6,500 cases of COVID-19 and at least 45 of the state's 195 deaths are from long-term care facilities, according to the data.
But there is a lag in reporting, state officials said Wednesday. At least one facility, Canterbury Rehabilitation & Healthcare Center in Henrico County, has reported 45 deaths as of April 15.
Gov. Ralph S. Northam announced last week the creation of a state task force on nursing homes that will focus on boosting testing, staffing, personal protective equipment and cleaning supplies to contain and stem the spread of the coronavirus in long-term care facilities.
Dr. Laurie Forlano, an epidemiologist and deputy commissioner of the Virginia Department of Health, will direct the task force. She noted at a briefing last week that elderly people already are a vulnerable, high-risk population for the coronavirus.
"Nursing homes present added difficulties of communal spaces that make social distancing a challenge. And staff who work in multiple facilities increase the risk," Dr. Forlano said.
The state also is tracking data on the number of positive cases and deaths in Virginia's long-term care facilities and posting that data daily on the Virginia Health Department's website, www.vdh. virginia.gov. However, the names of the facilities where the outbreaks have occurred are not made public.
Canterbury Rehabilitation & Healthcare Center has seen one of the largest COVID-19 outbreaks in the United States, even larger than the facility in Washington state that drew the national spotlight early on as the pandemic spread.
According to national reports, there have been more than 4,300 COVID- related deaths in nursing homes across the country.
State health officials stepped in at Canterbury to test residents and staff, and found that 84 residents and 35 staff mem- bers were positive for COVID-19.
According to media reports, Canter- bury's medical director, Dr. Jim Wright, said the facility's staffers who have tested positive for coronavirus can work with patients with the virus without fear, based on the assumption that people who have tested positive may have immunity from getting the virus a second time.
Officials said that Canterbury has stepped up health security measures and are closely following guidelines offered by the Centers for Disease Control and Prevention, as well as state and local health departments.
Dr. Danny Avula, director of the Richmond and Henrico County health districts, said long-term care facilities receiving federal dollars for Medicare and Medicaid have requirements for elderly people in their care during the pandemic, including restricting visitation, isolating patients testing positive for the virus and screening staff every day for COVID-19.
On Monday, Gov. Northam was asked about any state policies regarding nursing home notifying families of their loved ones' conditions during the pandemic.
"At the facility level, obviously there's going to be variation in practice," Gov. Northam responded. "However, our local health departments and COVID-19 task force will continue to recommend that facilities keep families informed with timely, accurate information. We are contemplating how to empower elderly facilities with the right communications tools and strategies."