Virginia Supreme Court halts most evictions through Sept. 7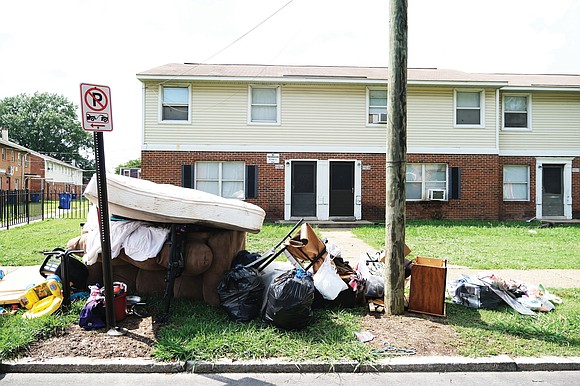 Thousands of families in Richmond and across the state are heaving a sigh of relief after a sharply divided Virginia Supreme Court temporarily halted local general district courts from issuing a writ of eviction for failure to pay rent — though not for other reasons like property damage.
The stay, which went into effect Monday and halted lower court action on a backlog of 9,000 eviction cases statewide, will last through Monday, Sept. 7.
According to the order from the court's four-member majority, it was explicitly issued to give Gov. Ralph S. Northam time to work with the General Assembly to craft a package to expand subsidies for people struggling to pay rent during the upcoming special legislative session set for Tuesday, Aug. 18.
The court's intervention, which drew a sharp rebuke from the three dissenting justices, emerged amid growing fears of an impending eviction tsunami as unemployment remains high and the coronavirus pandemic shows no sign of abating.
The U.S. Census Bureau's weekly Household Pulse Survey continued to raise the alarm that millions of people are at risk of losing their homes, increasing worries about fears of a coming wave of homelessness and distress not seen since the Great Depression of the 1930s.
In the latest survey, 21 percent of all rental households — representing about 11 million households nationally — were behind on rental payments for July and earlier months, with the majority expressing little confidence in being able to catch up. And there is little prospect for change in August.
According to the survey, 31 percent of Black households, 28 percent of Latino households, 16 percent of Asian and 15 percent of Caucasian households were behind on rent — percentages that have largely remained unchanged.
While a disproportionate number of households of color are in danger of eviction, by sheer numbers more Caucasians families are facing a threat of eviction as Caucasians constitute 60 percent of the nation's population, compared with 6 percent for Asians, 13 percent for African-Americans and 18 percent for Latinos.
Those findings have changed little since the first results in May.
The concern over evictions has expanded after key federal aid expired on July 25, including a $600 weekly federal supplement to unemployment pay. Since then, Republicans and Democrats in Congress have been unable to come to terms on a new deal, and secondary talks between President Trump and Democratic leaders ended last Friday with no deal in sight.
As a result, hopes have collapsed that the federal government will issue new stimulus payments like the $1,200 that went out three months ago or maintain expanded unemployment benefits.
Experts largely derided the four executive orders that President Trump signed last Saturday to great fanfare and assertions of providing benefits as publicity stunts that would offer little real assistance if Congress failed to appropriate the money to back them up.
Still, it remains unclear when an eviction tsunami might hit and how widespread it would be.
At least 20 states still have moratoriums on evictions in place, though most are set to expire at the end of August.
Federal housing agencies along with mortgage insurers Fannie Mae and Freddie Mac also have extended their eviction moratoriums until Aug. 31. And based on one Trump executive order, the agencies could extend the moratoriums for additional months.
That moratorium affects most people living in homes backed by a conventional or federally insured mortgage, apartments supported by federal financing or rental units that are supported by federal housing subsidies, such as public housing and Section 8 properties.
Separately, the National Multifamily Housing Council, which represents owners of complexes with five or more units, continues to report that 93 percent of tenants are paying on time — although the council believes that could drop in coming months with the loss of the unemployment subsidy.
In the Virginia Supreme Court, Justices S. Bernard Goodwyn and Cleo F. Powell, who are African-American, were joined by Justices William C. Mims and Stephen R. McCullough, who are white, to order the moratorium requested by Gov. Northam in July as the number of eviction hearings climbed.
The three dissenting justices also are Caucasian.
Chief Justice Donald W. Lemons wrote in dissent that he and Justices D. Arthur Kelsey and Teresa M. Chafin share the angst over the evictions crisis, but he argued that "the solution does not lie with the judicial branch of government" and must be left to the executive and legislative branches.
He described the moratorium as an impermissible showing of preference for one class of litigants, those facing eviction. "The judicial branch should not put a heavy thumb on the scales of justice and deny property owners access to the courts and enforcement of their long-established rights," he continued.
Justice Kelsey, in a separate dissent in which Justices Lemons and Chafin joined, also argued the majority lacked statutory authority to issue such a moratorium on evictions, judicially usurped the General Assembly's authority, offended "the due-process traditions of our Commonwealth," sidelined the adversarial process in being issued without a hearing and without briefs from supporters and opponents and failed to address serious constitutional questions.
"The COVID-19 pandemic and its resulting economic fallout are crises of monumental proportions," Justice Kelsey concluded. "I do not question my colleagues' motives in issuing this order. But we must do the right thing the right way for the right reason. One out of the three is not enough."