City rent and mortgage assistance program to get additional $8M in federal funds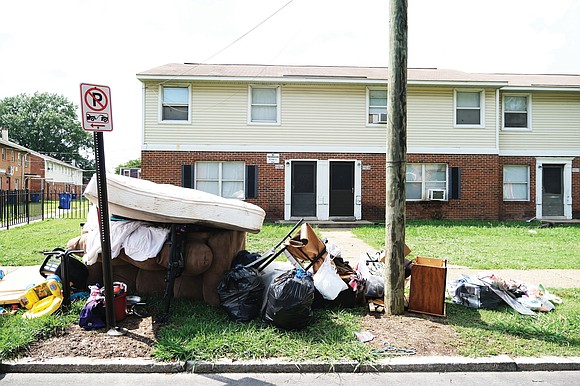 City Hall will pump an additional $8 million into a rent and mortgage assistance program in a bid to help hundreds of struggling Richmond families avoid eviction.
Richmond City Council was notified last week about the decision to use a big chunk of a new allocation of $20.1 million in federal CARES Act funds to expand housing assistance.
According to Mayor Levar M. Stoney's administration, the city already has invested $7.25 million from the first round of CARES Act funding in emergency shelter and rental assistance.
In all, the city has received $40.2 million in CARES Act funds in two allocations, with a total of $15.25 million, or 38 percent, earmarked to meet housing needs.
The additional funding for eviction relief is arriving as the latest Virginia Supreme Court order halting evictions is about to expire. The temporary order allows writs of eviction to again be issued and executed on Tuesday, Sept. 8.
The courts still have been hearing landlord suits to gain possession of units where families have been unable to pay rent. An estimated 1,900 families in Richmond have been issued court summonses related to failure to pay rent.
Most of the additional $8 million in new housing assistance money apparently will go to ACTS RVA, a faith-based nonprofit representing 60 area congregations, the administration told City Council.
Richmond previously provided $6 million to ACTS (Area Congregations Together in Service) to piggyback on a state allocation to the group to expand its rent and mortgage assistance efforts.
The administration has not reported to City Council the number of families assisted during the first round of funding or provided any information on ACTS RVA's performance.
Housing is one of 17 categories for which the money has been allocated.
However, the list shows that City Hall is not investing any additional CARES Act funds to support housing for the homeless beyond the $1.25 million that was previously allocated.
Also conspicuously absent is the $3 million the mayor promised to allocate to assist nonprofits to run child care pro- grams in city schools if the School Board opens them.
The list of places the money has or will be spent includes $3.9 million for grant programs for small businesses, $100,000 to enable the Richmond City Health District to hire people to trace contacts of those infected with COVID-19 and nearly $5 million to buy masks and hand sanitizer and pay for disinfection and sanitation of city buildings.
Another $5.9 million is being spent on the operation of unspecified government services impacted by the virus. Also, $1.1 million is being used to upgrade public and internal access to computerized city government information, with another $1.3 million being spent to modify buildings to meet federal Labor Department standards.
The city also used some of the money to provide $1,000 bonuses to non-exempt essential employees.
The Stoney administration has not released details on how many employees received the bonuses, or which departments were authorized to pay them.