Downtown illumination Dec. 4 to kick off the holiday
12/3/2020, 6 p.m.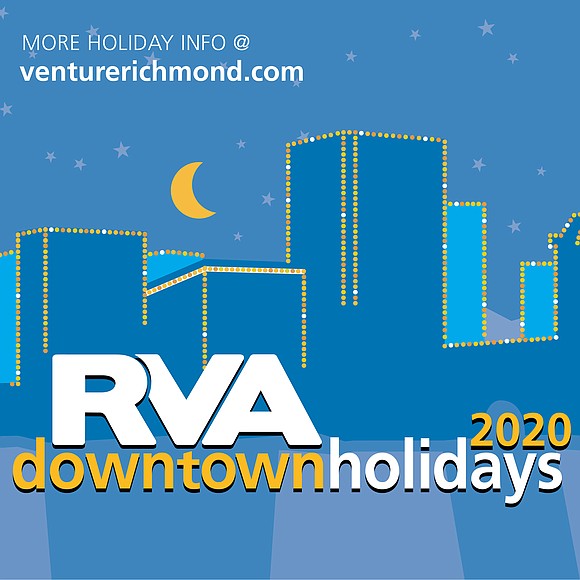 Downtown will light up for the holidays with the annual RVA Illuminates celebration this Friday, Dec. 4.
The celebration, led by the Richmond Department of Parks, Recreation and Community Facilities, is going virtual this year to avoid crowds and ensure the public's health and safety during the coronavirus pandemic.
People can tune into ABC8 News, WRIC, to watch the city's Downtown skyline light up at 6 p.m. Illumination events will begin at 5:45 p.m., which will include performances that can be enjoyed online.
Organizers urge people to light up their businesses and homes and Christmas trees at the same time.
From 6 to 8 p.m. Friday, Dec. 4, the City of Richmond will kick off Holiday Lights on the Riverfront, with decorative lights from Brown's Island to the Turning Basin on the Canal Walk. The event, presented by Venture Richmond, is free, with people asked to wear masks and to practice social distancing.
A vendor selling hot coffee and cocoa and a food truck will be available on Brown's Island, according to organizers, to help quell the cold and hunger. And Jonathan the Juggler will be entertaining on Brown's Island.
Here is a list of other holiday events taking place around the area:
Thursday, Dec. 3, through Saturday, Dec. 5 – Wreath Workshops. Create your own wreath using freshly cut greenery under the guidance of experts from Maymont's horticulture team. Evergreens, wreath forms and instructions are supplied. Participants must bring their own gloves and clippers. COVID-19 protocols will be strictly followed. Workshops 9 a.m. to noon and 6 to 9 p.m. Thursday; 6 to 9 p.m. Friday; and 10 a.m. to 1 p.m. and 2 to 5 p.m. on Saturday. Cost: $40; $34 for Maymont members. Details and registration: https://maymont.org/events/holiday-merriment/
Friday, Dec. 4 to Dec. 20 – Christmas Tree Decorating Contest, Main Street Station, 1500 E. Main St. Hosted by Community First, the contest features 10 local nonprofits who each have decorated their own tree. The trees will be on display for people to vote on their favorite. Each vote costs $1. The top three winners will be announced Dec. 21, with the nonprofits receiving all the proceeds from the votes received.
Saturday, Dec. 5 – The 37th Annual Richmond Christmas Parade will be a television-only special broadcast from 10 a.m. to noon on WTVR CBS 6 and streamed on WTVR.com. It also will be rebroadcast on Christmas Day. The parade will feature performances by a variety of groups, as well as "best of" clips from past parades, including the giant helium balloons and floats, and an appearance by the guest of the hour, Legendary Santa.
Saturday, Dec. 5, and Sunday, Dec. 6 – Holiday Villages. Enjoy online shopping and entertainment from 4 to 8 p.m. at the two-day, multicultural market presented by the Richmond Night Market and several community partners. More than 50 artists and small businesses will be featured. Free, but register in advance at www.richmondnightmarketva.com.
Saturday, Dec. 5, and Saturday, Dec. 12 – Soul Santa, presented by the Black History Museum & Cultural Center of Virginia. Santa will be making virtual visits with youngsters at noon and 1 p.m. both days. Children also can participate in holiday craft making with Richmond artist Faithe Norrell or hear a Christmas story by NBC12's Karla Redditte. Each child who registers will receive a personal letter in the mail from Soul Santa. Registration and details: www. blackhistorymuseum.org. Click on Soul Santa link.
Saturday, Dec. 5 – Carytown Open Air Christmas Market. An outdoor, Christmas market featuring about two dozen artists and craft persons will be held from 11 a.m. to 4 p.m. in the courtyard of 2810 W. Cary St., a community gathering place. The event is hosted by Area 10 Faith Community. People are asked to wear masks and practice social distancing. Rain date: Sunday, Dec. 6. Details: Carytown Open Air Christmas Market Facebook page.
Sunday, Dec. 6 – Winter Wander at The Valentine and Court End neighborhood. From noon to 4 p.m., enjoy a special, self- guided walking tour of Court End, live music in The Valentine garden and hot beverages. Free. Social distancing and masks. Register in advance for free, timed tickets to visit the museum's exhibits. Details: https://thevalentine.org/event/winter-wander/
Monday, Dec. 7 – Home for the Holidays. Commonwealth Catholic Charities is hosting its first virtual Holiday Festival of Music – Home for the Holidays, holiday favorites performed by the Richmond Symphony. The benefit event will aid Commonwealth Catholic Charities' programs. Details and tickets: www.cccofva.org/event-details/holiday-festival-of- music-home-for-the-holidays.
Friday, Dec. 11, through Saturday, Dec. 26 – A virtual production of The Nutcracker. The Richmond Ballet is releasing a recording of its production of The Nutcracker. Several virtual and in-person experiences are available. Details and tickets: www. richmondballet.com/season-tickets/ticket-info/performances/nutcracker2020/
Saturday, Dec. 12 – Holiday Lights and Music on the Riverfront. From 6 to 8 p.m., enjoy a display of decorative lights from Brown's Island to the Turning Basin on the Canal Walk. Music by Trombone Trio. Presented by Venture Richmond. Free. https://venturerichmond.com/news/downtown-richmond-2020-holiday-events/
Saturday, Dec. 12, through Monday, Dec. 21 – "Santa's Enchanted Workshop". Enjoy Virginia Repertory Theatre's holiday musical at the November Theatre in Downtown. The play features Stanley and his baby sister, SuSu, who don't know whether to believe in Santa Claus, so they set out for the North Pole, where they run into many interesting characters, including a singing robot and a dancing rag doll. Details, including tickets, dates and times: https://tickets.va-rep.org/8544/8545
Saturday, Dec. 19 – Holiday Lights and Music on the Riverfront. From 6 to 8 p.m., enjoy a display of decorative lights from Brown's Island to the Turning Basin on the Canal Walk. Music by Justin Paciocco. Presented by Venture Richmond. Free. https://venturerichmond.com/news/downtown-richmond-2020-holiday-events/