VUU surprised by $1M announcement on Founders Day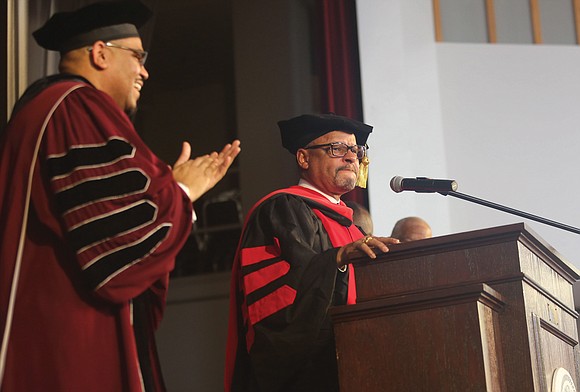 She noted that university officials were surprised and pleased by Delegate Torian's announcement and are awaiting details on the state award.
Delegate Torian declined to provide details this week to the Free Press.Lawmakers,includingDelegate Torian, are still in negotiations over Gov. Ralph S. Northam's proposed 2020-22 state budget.
"Like those who came before us, we are created for good work," Delegate Torian told the audience. "God created you and this university for good work. We stand here today on sacred ground where God transformed the 'Devil's Half Acre' into 'God's Half Acre.' "
After his sermon-like remarks, Delegate Torian received a standing ovation as Dr. Lucas presented him with the Doris and Steve Bullock Presidential Medal of Honor, which was established in 2019.
"Virginia Union University has much to celebrate, and we are thankful that our alumnus, Delegate Torian, will be with us," Dr. Lucas said. "He is a shining example of the type of leaders, both locally and nationally, that have graduated from VUU."
University officials also used the occasion to highlight the VUU logo newly placed at the top of the campus' landmark Belgian Building. The logo, which appears on all four sides of the building, will be lighted at night and visible at points around the city and from Interstate 95.