Randolph-Macon heading into postseason with Miles Mallory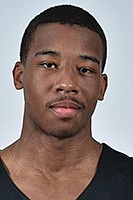 Randolph-Macon College's basketball squad is fueled up and prepared for postseason takeoff.
Expecting to provide ample firepower for a lengthy NCAA run is freshman Miles Mallory.
The 6-foot-5 newcomer from Beltsville, Md., and St. Vincent Pallotti High School, is a top-of-the-list reason why the Yellow Jackets are placing no limits on this season.
In helping the Ashland school to a national No. 2 NCAA Division III ranking, Mallory is second on the team in scoring (11.9 points average, and behind Buzz Anthony), first in rebounding (8.1), first in field goal percentage (55 percent) and first on the team and in the Old Dominion Athletic Conference in blocked shots (2.9).
In fact, his 71 total rejections is just two behind the school seasonal standard 73 set by Pat Holland in 1990.
Heading to the ODAC Tournament this weekend in Salem, R-MC was 23-2 overall, 11-0 at home and 15-1 in the ODAC.
There have been few speed bumps. Mallory has been a starter since opening night, averaging 29 minutes per contest.
This is among the top seasons so far in a rich R-MC history that featured a trip to the NCAA Division II Finals in 1977 under Coach Hal Nunnally, and a drive to the Division III Final Four in 2010 under Coach Nathan Davis. The school's program went from Division II to Division III in 1990.
Also, R-MC was 28-2 in 2003 under Coach Mike Rhoades, who is now at Virginia Commonwealth University. The 1974 Yellow Jackets, under Coach Paul Webb, went 27-3 and lost to eventual NCAA Division II champ Old Dominion University in the South Atlantic Regional.
Coach Josh Markel's Yellow Jackets will be the No. 1 seed for the ODAC Tournament and a likely first round host for the NCAA Division III South Regional.
R-MC trailed only Swarthmore College in Pennsylvania in the most recent NCAA Division III national poll. That was prior to a 63-54 loss last Saturday at Guilford College in the regular season finale.
Mallory is one of two African-American starters for R-MC, along with senior guard Korey Turner.
Turner, who played basketball in high school at Midlothian High School and Amelia Academy, is the sibling of former University of Richmond standout Darien Brothers.
While the R-MC program hasn't always had many Af- rican-American players, there was been no shortage of quality. Here are some examples:
• Dennis Howard (1969- 1972): The program's first black player came to Ashland from Arlington and scored 941 points for Coach Paul Webb.
• Jerome Ross: After helping Maggie L. Walker High School to the 1971 state championship, the 6-foot-7 center became an integral part of Coach Webb's Division II juggernaut.
• Fletcher Johnson (1970- 1975): Coming from John Marshall High School, he set a career record of 2,216 points. No one has approached that since. Hands down, "Fletch" is the program's all-time great.
• Justin Wansley (2002- 2006): Recruited out of Henrico High School, the son of former Virginia Tech star Ernest Wansley scored 1,566 points.
• Nathan Davis as player (1992-1996): The D.C. native scored 983 points under Coach Hal Nunnally.
• Nathan Davis as coach (2009-2015): As head coach, he led R-MC to a 141-39 record before moving on to Bucknell University.