2020 Vision
Mayor Stoney reflects on his accomplishments of the past 3 years, his goals for the final year of his term and prospects for re-election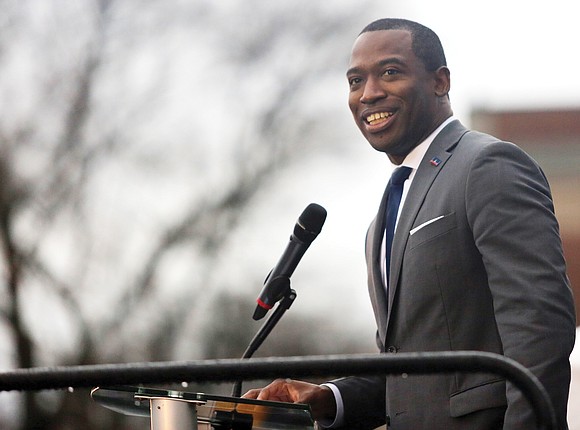 Mayor Levar M. Stoney is heading into 2020 confident that Richmond voters will reward him with another four years based on his accomplishments.
Gearing up for re-election — and as yet unchallenged despite signals that others might run — the mayor ticked off the full funding for Richmond Public Schools requests this year, the construction of three new schools, an increase in street paving and the launch of the state's first Eviction Diversion Program as the top items on his list of notable achievements.
The youngest mayor in city history when he took office in 2017, Mayor Stoney, who will turn 39 in March, talked up the improvements he has ushered in and brushed off rumors that he might seek state office in 2021 during a recent interview at City Hall with the Free Press.
"You will see me on the ballot," said the mayor, known for his quick smile and fast patter. "And I will fulfill my time, not just this year and this term, but in the second term as well.
"I think I've got the best job in the Commonwealth," he said. "When I wake up, it challenges me each and every day. This city has grown, but I also see myself as growing in this role as well. I will be a better mayor in year 4 than I was in year 1. And I'll be a better mayor in year 8 than I will be in year 5."
He won a four-way race four years ago to secure the position. At the moment, the only potential opponent being mentioned for the November contest is 2nd District Councilwoman Kim B. Gray, though she has not said if she will run for mayor or seek re-election to City Council.
On the campaign trail and if re-elected, Mayor Stoney said he plans to use the same approach that helped him win the office.
He said he would "lean into my 'One Richmond' agenda and the pillars of 'One Richmond,' more investment in improving public education, more investment in affordable housing, more investment in mass transit and public transportation and more investment in job creation and workforce development."
He has taken heat for pushing for tax increases to provide more revenue to make such investments.
While he lost a bid to increase the city's real estate property tax, he succeeded in getting City Council to pass a 1.5 percent hike in the local meals tax on restaurant and other prepared food to finance construction of three new schools that will open in September. He also secured passage of the city's first tax on cigarettes, a 50-cent tax that is expected to raise about $3 million in new revenue.
As he prepares the next Richmond budget for presentation in March, he would not rule out another tax increase. "Every option is on the table," he said.
However, he added, "I'm not silly. I recognize that City Council has rejected proposals for raising the real estate tax rate. I'm keeping that in mind. And just because all options are on the table doesn't mean I will be proposing a tax increase."