Va. General Assembly starts on historic note
George Copeland Jr. and Jeremy M. Lazarus | 1/10/2020, 6 a.m.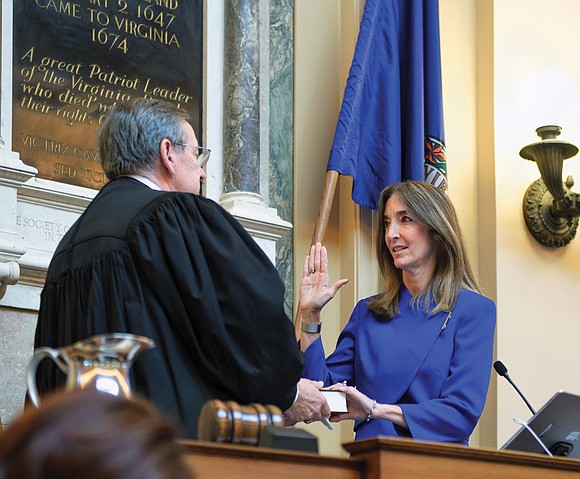 He said that would include creating a system of automatic voter registration and eliminating potential barriers, and supporting passage of nonpartisan redistricting so legislators could no longer "choose their voters."
Richmond Delegate Jeff Bourne, vice chair of the Militia, Police and Public Safety Committee, said the state no longer can leave "issues of homelessness and eviction unattended."
He said he and other caucus members will be at the forefront to boost tenants' rights, including imposing bans that would keep property owners and landlords from refusing to rent to survivors of domestic violence or people seeking to use government vouchers or other aid to help pay their rent.
Such discrimination "is abhorrent," he said, in noting that VLBC members also will join in prohibiting discrimination against members of the LGBTQ community in housing and employment.
He said the VLBC will back efforts to increase a state investment pool for afford- able housing and beef up eviction diversion programs in Richmond and elsewhere.
Meanwhile, Portsmouth state Sen. L. Louise Lucas, the dean of the VLBC who will serve as Senate president pro tem and also chair the Senate Health and Education Committee, said she will push to expand Medicaid coverage for pregnant women and dental and eye care, seek to scrap work requirements for Medicaid recipients that Republicans imposed and work to repeal restrictions on abortions.
Delegate Bourne also will be on the front lines in the high-profile issue of gun safety, with Democrats pledging to pass "common sense gun laws" such as universal background checks on gun sales. Bills also have been filed to limit the size of weapon magazines and the purchase of military-style, semiautomatic rifles and to reinstate local government authority to pass gun control measures for public places.
The caucus also will support "red-flag" laws to strip firearms from those engaged in domestic violence or who have violent offense records and are considered a serious threat.
Gun rights groups have pledged stiff defiance. The Virginia Citizens Defense League, a prominent pro-gun group, said it plans to have "enough citizens armed with handguns to take over a modern, mid-sized country" at its annual lobby day on Monday, Jan. 20.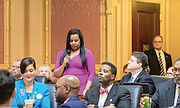 The VLBC also will seek to keep a proposal in Gov. Northam's budget to shift the entire $83,000 allocated yearly to maintain Confederate graves to supporting the upkeep of historic and previously neglected African-American cemeteries.
Richmond state Sen. Jennifer L. McClellan noted that the caucus is celebrating the 35th year of black women serving in the General Assembly. But she added that she and others "stand on the shoulders of the first black delegates and senators" who took office a little more than 150 years ago when the General Assembly, abolished for nearly two years, was restarted under a new constitution that allowed black men to vote.
"We are their legacies," she said. "As they did, we will continue to work to eliminate the last vestiges of racism and white supremacy in Virginia. All of us are ready to work. It is our time."