Diversity lip service only?
Bieniemy gets the brushoff, even under 'Rooney Rule'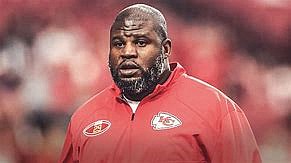 Also interviewing for the Browns' vacancy was Robert Saleh, San Francisco's defensive coordinator. Of Lebanese ancestry, Saleh is the first Arab-American to become a coordinator.
Bieniemy has received a full endorsement from Reid, who is among the NFL's most successful head coaches. A 50-year-old native of New Orleans, Bieniemy was an All-American running back at the University of Colorado and a Heisman Trophy finalist.
The 5-foot-7, 207-pound speedster played nine NFL seasons before getting into coaching, first with his alma mater, Colorado, and then UCLA.
His first NFL job was with the Minnesota Vikings in 2006.
Bieniemy has been with Kansas City since 2013 and the Chiefs' offensive co- ordinator for the past two seasons.
The dazzling offensive numbers in Kansas City don't lie. Bieniemy has done about everything possible of an assistant coach shy of winning it all.
Bieniemy's offense never looked more formidable than in the Chiefs' 51-31 win over the Houston Texans last Sunday in the AFC playoff semifinals.
Now Kansas City awaits the Sunday arrival of the Tennessee Titans for the AFC title and a ticket to the Super Bowl at Hard Rock Stadium in Miami Gardens, Fla.
Perhaps when Bieniemy interviews next season, as he's likely to do, he'll be wearing a shiny Super Bowl ring.
Other African-American coaches
Here are some other successful African-American coaches who eventually could become NFL head coaches, or return as such.
• Jim Caldwell, 64: Former head coach with the Indianapolis Colts and Detroit Lions remains in the hunt.
• Byron Leftwich, 39: Offensive coordinator for Tampa Bay Buccaneers.
• Leslie Frazier, 60: Former Minnesota Vikings head coach, now the Buffalo Bills' defensive coordinator.
• Perry Fewell, 57: He was interim head coach for the Carolina Panthers following the firing of Ron Rivera.
• David Culley, 64: Wide receivers coach for the Baltimore Ravens.
• George Edwards, 52: Defensive coordinator for the Minnesota Vikings.
• Thomas McGaughey, 46: Special teams coordinator for the New York Giants.
• Duce Staley, 44: Assistant head coach for the Philadelphia Eagles.
• Richard Hightower, 40: Special teams coordinator for the San Francisco 49ers.
And from the college ranks, among the more prominent black coaches are Lovie Smith (University of Illinois), James Franklin (Penn State University), Herm Edwards (Arizona State University) and David Shaw (Stanford University).