Pamunkey Tribe launches plan for $350M casino resort in South Side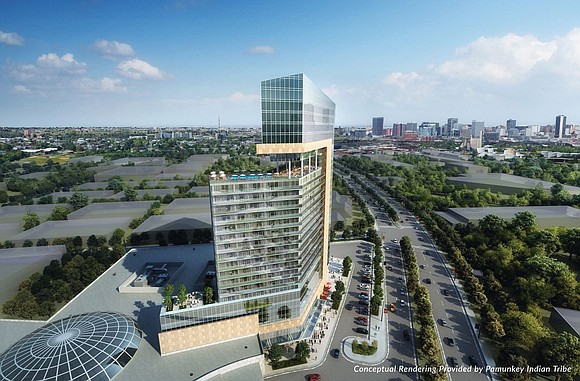 A Virginia Indian tribe that includes Richmond as part of the territory where tribal ances- tors lived and hunted before the English invasion is planning to make a splashy return to this modern city in the form of a $350 million resort hotel and casino.
The Pamunkey Indian Tribe, no longer confined as it had been for 362 years to a 1,200-acre reservation in King William County that nestles the river that bears the tribe's name, announced its huge proposal Jan. 17.
According to a statement, the tribe is planning to put its gambling resort on a 36- acre warehouse and storage complex at Ingram Avenue and Commerce Road in South Side — a property once eyed for a modern city jail before the current Shockoe Valley location north of the James River was chosen.
The only Virginia tribe with the right to develop casinos, the Pamunkey stated the tribe has an option to purchase the property made up of three parcels. The tribe also has a separate option to purchase a 13-acre property at Walmsley Boulevard and Jef- ferson Davis Highway that was the site of a King's Department Store, part of a now-defunct chain.
The tribe plans to initially use the old department store property as a training center for future casino employees and indicated that the space later could be converted into a community grocery store or health care operation.
The casino plan is not a done deal. The development currently awaits re-enactment of state legislation allowing casinos that was first approved last year. That legislation included a requirement for a referendum to allow Richmond voters to decide whether to allow casino operations.
Still, the tribe is bullish on the prospects for acceptance and eventual success.
Chief Robert Gray stated the tribe "is excited about our plans" to transform a commercial area on South Side into a high-quality gaming center to help "secure our future and provide an economic boost for the city and its residents."
As currently envisioned, the resort would feature a four-diamond, 275-room hotel tower with views of the James River and Downtown from the upper floors. Along with a casino, the hotel also would feature a spa, fitness center and pool, high-end restaurants, a food court and at least 1,000 parking spaces.
The tribe projects the gaming resort would attract 4 million visitors a year,
Tribal spokesman Jay Smith said unlike other businesses for whom a casino is a profit center, this casino is seen as a means for the tribe to gain a revenue stream to be used for other projects, such as creating a university for Native Americans, developing senior residences for tribal elders and others and other beneficial community projects.
The prospect of the casino development appears to counter Mayor Levar M. Stoney's refrain that Richmond's prosperity requires the $1.5 billion Coliseum replacement project, otherwise nothing would happen in Downtown or elsewhere.
"The mayor is excited about the opportunity to bring a resort casino to Richmond," said Jim Nolan, Mayor Stoney's press secretary, in responding to a Free Press query about the casino plan. "We'll wait to see what happens in the General Assembly and what it means for the city."