Help for women in addiction to expand with new CARITAS center in South Side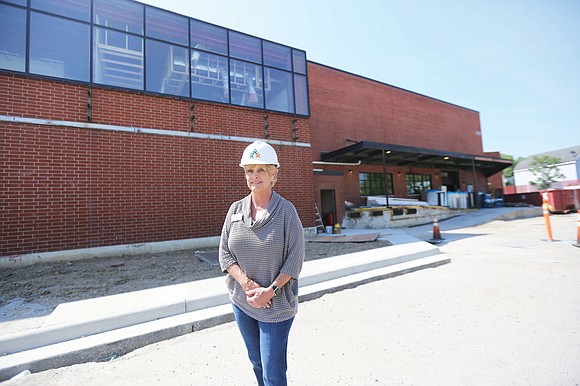 The new facility will dramatically expand the beds available to provide residential treatment for women, whom Ms. Stanley said have long been underserved in this area.
Before this development, the Richmond Behavioral Health Authority operated the most significant residential treatment operation for women. Of the 146 treatment beds at RBHA's North Side center, at least 54 are reserved for women.
Still, often there is a 30- to 90-day waiting list to get in, and CARITAS previously had to send desperate women to Raleigh, N.C., and Louisville, Ky., for addiction treatment.
This is the largest project in the 36-year history of the organization.
The nonprofit has been around since the mid-1980s, when a group of churches opened their doors to house the homeless during the winter.
Formally organized as Congregations Around Richmond Involved to Assure Shelter in 1987, CARITAS, which relies heavily on volunteers, has become an indispensable social services organization.
For the first 20 years, CARITAS focused on providing night and day shelter for individuals and families with the help of congregations that volunteered space.
Drug addiction became a major element in 2007 when Ms. Stanley added the title of executive director of The Healing Place, a 214-bed men's shelter and drug treatment center that operates in a former industrial space on Dinwiddie Avenue, about a mile east of the new center.
Brought to Richmond in 2005 from Louisville, The Healing Place operates a drug treatment program that claims a 70 percent success rate in helping men stay sober. The Healing Place includes a 36-bed shelter and 178 beds for those willing
to engage in treatment. Merged into CARITAS in 2012, The Healing Place for Men will be the model for the women's program at the CARITAS Center, Ms. Stanley said.
According to Ms. Stanley, "the primary program will be the Residential Recovery Program, and the majority of beds, 120, will be designated for that purpose."
For those who arrive high but do not need hospitalization, the first step would be placement in a 12-bed stabilization unit called "Safe Off the Streets."
There also would be a 28-bed emergency shelter where addicted women could speak with peer mentors who are in recovery, even if those provided shelter decline further services, Ms. Stanley said.
Those willing to start their recovery journey would begin with a four-to eight-week program called "Off-the-Streets." Participants will be required to attend classes, attend Alcoholics or Narcotics Anonymous meetings and abide by the rules, she said.
Those who complete "Off- the-Streets" enter the three-to six-month Recovery program, which, along with educational programming, requires participants to volunteer doing laundry, cleaning the building or providing security.
The final step, called "Works," is designed around an intensive five-week job readiness program that would include training in computer and life skills.
Then comes the 90-day transition phase that follows graduation, during which clients would need to find work, Ms. Stanley said. There will be 21 beds for women who reach this stage.
"We have found that 90 percent of the men who go through program are able to find employment within 30 days," Ms. Stanley said.
As is the case with the men's program, CARITAS would follow graduates and provide two years of support through the "After Works" program.
There also will be five rooms with space for 18 peer mentors, the cadre of volunteers who stay on site to help those coming behind them, Ms. Stanley said.
And "there will be a visitation suite so moms can spend a weekend with their children," she said. "We are not allowing kids in the program so the women can really focus on their recovery. This is a way our clients can reconnect."
CARITAS, which serves about 4,000 people a year, has an annual operating budget of $5 million and about 80 employees.