How Jesus became white – and why it's time to cancel that
Emily McFarlan Miller/Religion News Service | 7/16/2020, 6 p.m.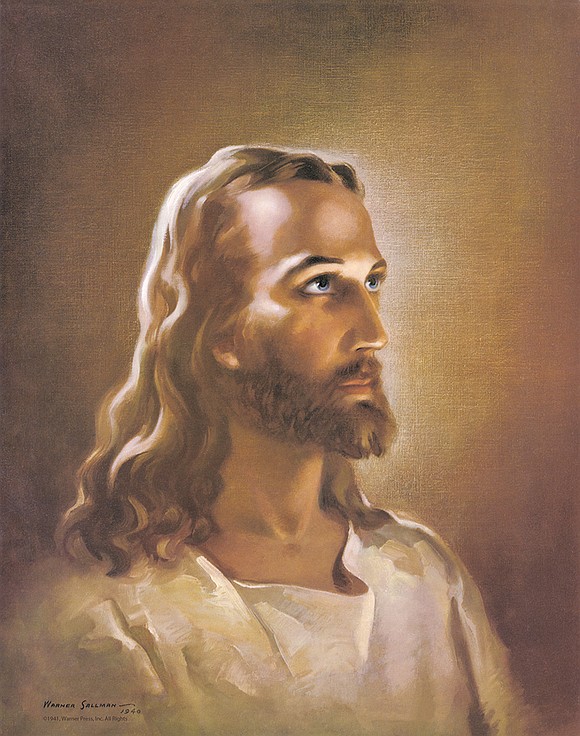 CHICAGO - The first time the Rev. Lettie Moses Carr saw Jesus depicted as Black, she was in her 20s.
It felt "weird," Rev. Carr said.
Until that moment, she'd always thought Jesus was white.
At least that's how he appeared when she was growing up. A copy of Warner E. Sallman's "Head of Christ" painting hung in her home, depicting a gentle Jesus with blue eyes turned heavenward and dark blond hair cascading over his shoulders in waves.The painting, which has been reproduced a billion times, came to define what the central figure of Christianity looked like for generations of Christians in the United States and beyond.
For years, Mr. Sallman's Jesus "represented the image of God," said Rev. Carr, director of ministry and administrative support staff at First Baptist Church of Glenarden in Maryland.
When she grew up and began to study the Bible on her own, she started to wonder about that painting and the message it sent.
"It didn't make sense that this picture was of this white guy," she said.
Rev. Carr isn't the first to question Mr. Sallman's image of Jesus and the impact it has had not only on theology but also on the wider culture. As protesters around the United States tear down statues of Confederate heroes and demand an accounting for the country's long legacy of racism, some in the church are asking if the time has come to cancel so-called white Jesus, including Mr. Sallman's famous painting.
The New York Times once labeled Mr. Sallman the "best-known artist" of the 20th century, despite the fact that few recognized his name.
"Sallman, who died in 1968, was a religious painter and illustrator whose most popular picture, 'Head of Christ,' achieved a mass popularity that makes Warhol's soup can seem positively obscure," William Grimes wrote in the New York Times in 1994.
The image began as a charcoal sketch for the first issue of The Covenant Companion, a youth magazine for a denomination known as the Swedish Evangelical Mission Covenant.
Mr. Sallman, who grew up in the denomination that is now known as the Evangelical Covenant Church, was a Chicago-based commercial artist. Wanting to appeal to young adults, he gave his Jesus a "very similar feeling to an image of a school or professional photo of the time making it more accessible and familiar to the audience," said Tai Lipan, gallery director at Indiana's Anderson University, which has housed the Warner Sallman Collection since the 1980s.
His approach worked. The image was so popular that the 1940 graduating class of North Park Theological Seminary in Chicago commissioned Mr. Sallman to create a painting based on his drawing as their class gift to the school, according to the Evangelical Covenant Church's official magazine.
Mr. Sallman painted a copy for the school but sold the original "Head of Christ" to religious publisher Kriebel and Bates, and what Ms. Lipan calls a "Protestant icon" was born.
"This particular image of Jesus met the dawn of the 'Mad Men,' of the marketing agency," said Matthew Anderson, affiliate professor of theological studies at Concordia University in Montreal.