Rep. John Lewis
A lion of the Civil Rights Movement and 'conscience of Congress' dies at 80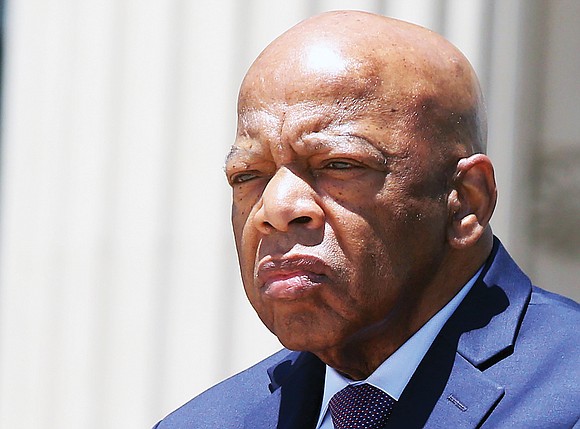 ATLANTA - Congressman John Lewis of Georgia, a lion of the Civil Rights Movement whose bloody beating by Alabama state troopers in 1965 helped galvanize opposition to racial segregation, and who went on to a long and celebrated career in Congress, died late Friday, July 17, 2020. He was 80.
"The world has lost a legend; the Civil Rights Movement has lost an icon; the City of Atlanta has lost one of its most fearless leaders; and the Congressional Black Caucus has lost our longest serving members," members of the CBC said in a statement released last week. Rep. Lewis "remained devoted to the philosophy of nonviolence in his fight for justice and equality, even to this day, as America faces another reckoning with racism and hundreds of thousands around the world spark a modern-day Civil Rights Movement against police brutality and racial injustice."
Tributes poured in honoring Rep. Lewis, from Democrats and Republicans alike, as well as from people across the nation who, while they did not know the congressman personally, said their lives have been impacted by Rep. Lewis' fight for voting rights and equal rights.
An impromptu memorial has sprung up in Atlanta under the 65-foot-high mural of Rep. Lewis that towers over the city's Sweet Auburn district. People left flowers, notes, candles and other tributes to Rep. Lewis, the youngest and last survivor of the Big Six civil rights activists who were instrumental in organizing and participating in the landmark August 1963 March on Washington for Jobs and Freedom led by Dr. Martin Luther King Jr.
House Speaker Nancy Pelosi called him "one of the greatest heroes of American history."
"All of us were humbled to call Congressman Lewis a colleague, and are heartbroken by his passing," Speaker Pelosi said. "May his memory be an inspiration that moves us all to, in the face of injustice, make 'good trouble, necessary trouble.' "
Rep. Lewis announced in late December 2019 that he had been diagnosed with advanced pancreatic cancer. "I have never faced a fight quite like the one I have now," he said at the time.
The announcement of his death came just hours after the death of the Rev. C.T. Vivian, another civil rights leader, who died early last Friday at 95.
His wife of four decades, Lillian Miles Lewis, died in 2012. They had one son, John Miles Lewis. Funeral arrangements are expected to be announced later this week.
Rep. Lewis will be forever linked in history and memory for leading about 600 protesters in the Bloody Sunday march across the Edmund Pettus Bridge in Selma, Ala., in March 1965. At age 25, walking at the head of the march with his hands tucked in the pockets of his tan overcoat, Rep. Lewis was knocked to the ground and beaten by police. His skull was fractured. Nationally televised images of the brutality forced the country's attention on racial oppression in the South.
Within days, Dr. King led more marches in Alabama, and President Lyndon Johnson soon was pressing Congress to pass the federal Voting Rights Act. The bill became law later that year, removing barriers that had barred Black people from voting.