Rep. John Lewis
A lion of the Civil Rights Movement and 'conscience of Congress' dies at 80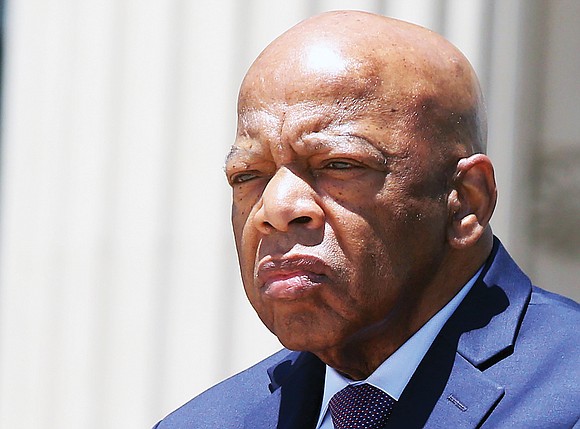 "He loved this country so much that he risked his life and its blood so that it might live up to its promise," former President Obama said in a statement upon learning of Rep. Lewis' death. "Early on, he embraced the principles of nonviolent resistance and civil disobedience as the means to bring about real change in this country."
Rep. Lewis was the youngest speaker at the March on Washington, where Dr. King delivered his epochal "I Have a Dream" speech.
A 23-year-old firebrand, Rep. Lewis toned down his intended remarks at the insistence of others, dropping a reference to a "scorched earth" march through the South and scaling back criticisms of President Kennedy. It was a potent speech nonetheless in which he vowed: "By the forces of our demands, our determination and our numbers, we shall splinter the segregated South into a thousand pieces and put them together in an image of God and democracy."
Rep. Lewis also served as the keynote speaker in Richmond at the June 2019 dedication of the newly renamed Arthur Ashe Boulevard. He was warmly embraced by the crowd of thousands attending the ceremony outside the Virginia Museum of History & Culture.
Rep. Lewis spoke then about his childhood, his bloody encounter as a Freedom Rider in 1961trying to beat back segregated bus transportation and terminal waiting rooms in small Southern towns and cities and the need, still, for change in the nation.
"I try to speak through actions," he told the Richmond crowd. He said it's time for young people and others to get in "good trouble, necessary trouble" to "change things for the better."
Rep. Lewis was born on Feb. 21, 1940, outside the town of Troy in Pike County, Ala. He grew up on his family's farm and attended segregated public schools.
As a boy, he wanted to be a minister, and practiced his oratory on the family chickens. Denied a library card because of the color of his skin, he became an avid reader and could cite obscure historical dates and details even in his later years. He was a teenager when he first heard Dr. King preaching on the radio. They met when Rep. Lewis was seeking support to become the first Black student at Alabama's segregated Troy State University.
He ultimately attended the American Baptist Theological Seminary and Fisk University in Nashville, Tenn. He began organizing sit-in demonstrations at whites-only lunch counters and volunteering as a Freedom Rider, enduring beatings and arrests while traveling around the South to challenge segregation.
Rep. Lewis helped found the Student Nonviolent Coordinating Committee, known as SNCC, and was named its chairman in 1963, making him one of the Big Six at a tender age. The others, in addition to Dr. King, were Whitney Young of the National Urban League; A. Philip Randolph of the Negro American Labor Council; James L. Farmer Jr., of the Congress of Racial Equality; and Roy Wilkins of the NAACP. All six met at the Roosevelt Hotel in New York to plan and announce the March on Washington.