'Defunding police' rejected
Richmond City Council kills proposal to examine police funding in social, mental health and community services and move the money to other departments
Eighth District Councilwoman Reva M. Trammell, chair of City Council's Public Safety Committee and who was participating in her first meeting after being sidelined by an accident a few weeks ago, found little to like.
Concerned like 3rd District Coun- cilman Chris A. Hilbert over the recent spike in shootings and killings in the city, Ms. Trammell also expressed dismay at the insults she said are being hurled at police.
"It breaks my heart to see what is going on," she said, "how (officers) are being belittled, how they are being cussed out, how they are being told 'F... the police.'
"Yeah, there needs to be some changes, but on both sides, both sides," she said.
Dr. Jones and Ms. Lynch both noted that full funding of a Marcus Alert System that would have mental health professionals respond to non-violent emergency crisis situations rather than police and a civilian oversight board of police will have to come from somewhere.
City Council approved legislation that would set up task forces to design both of those programs, with a view to creating models for the rest of the state.
However, the proposal for the Marcus Alert System may not have aided Mr. Peters.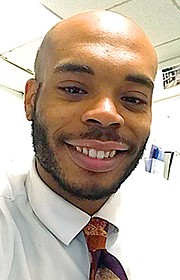 Mr. Peters, who was driving Downtown, was chased by a police officer after side-swiping several cars and driving erratically toward an entry ramp to Interstate 95.
According to police video released after the May 14, 2018, fatal shooting, Mr. Peters, who was naked and unarmed, climbed out of his car feet first through the driver's side window and ran onto the interstate, where he was struck by a car, and then danced and rolled around in the traffic lane as vehicles slowed around him.
When he noticed the police officer, he threatened to kill him and charged at him, screaming expletives. The officer fired his Taser at Mr. Peters, which failed to connect or subdue him and then fired his service revolver, striking Mr. Peters.
The incident lasted about 19 seconds, with events unfolding in too short a time span to allow a mental health professional to respond. In calling for backup before the shooting, the officer acknowledged the Mr. Peters seemed to be suffering a mental crisis.
Separately, Ms. Trammell's committee put off action on Tuesday on another proposal by Dr. Jones and Ms. Lynch calling for an end to police use of tear gas, pepper spray and rubber bullets against protesters, another demand from protesters.
In other business Monday, City Council cleared the way for development of a new shared-housing apartment complex on Arthur Ashe Boulevard. The council also overrode the city Planning Commission to permit an Ashe Boulevard gas station to raise an 84-foot sign to be seen on Interstate 95.