George Floyd Hologram Memorial brings new light, tribute to Monument Avenue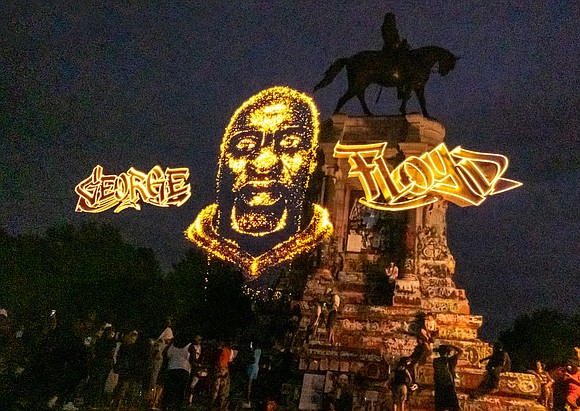 Hundreds of people gathered at the Robert E. Lee statue on Monument Avenue on Tuesday night to hear the family of George Floyd and their attorney Benjamin Crump speak and to witness the unveiling of a new hologram in tribute to Mr. Floyd.
The death of Mr. Floyd, the 46-year-old unarmed, handcuffed Black man who was killed May 25 when a Minneapolis policeman knelt on his neck for more than 8 minutes, inspired a global movement against police brutality and racial injustice. Demonstrations have been held almost daily in Richmond since late May calling for police reform, equity and justice for people of color and an end to systemic racism and symbols of oppression.
On Tuesday night, people of all ages, races and ethnicities gathered to see the hologram in the area around the statue of Confederate Gen. Robert E. Lee that has been renamed Marcus-David Peters Circle by protesters to honor Mr. Peters, a 24-year-old biology teacher who, naked and unarmed, was shot and killed when he charged and threatened a Richmond Police officer in May 2018.
A large group of marchers joined the crowd as they carried signs demanding that local authorities reopen an investigation into Mr. Peters' death. They also called for defunding the Richmond Police Department and removing all monuments to white supremacists.
As the evening clouds descended into darkness, the syncopated rhythms of the Richmond Drum Collective embraced the crowd. Rodney and Philonise Floyd, the brothers of George Floyd, and other family members arrived with Mr. Crump. They mingled among the crowd and took pictures with people eager to talk with them.
Fittingly, the hologram of Mr. Floyd, a project of Change.org and the George Floyd Foundation, was projected onto a screen near the base of the Lee statue, with Mr. Floyd's visage becoming the central focus.
When the moment arrived, hologram lights appearing like golden fireflies morphed into an image of Mr. Floyd, with his named spelled in lights. A collective "Aww" went up from the audience, followed by applause.
The Floyds expressed to the crowd and to a Free Press reporter their heartfelt appreciation for people turning out for the tribute to their late brother.
"This means a lot," Rodney Floyd told the Free Press on Tuesday night. "It just shows that from Minneapolis to right here in the capital of the South, and across the world, this means a lot to carry on my brother's legacy. I love the energy. We are still fighting for the cause."
Mr. Crump reflected on the importance of the hologram exhibit as well as starting the tour in Richmond, the former capital of the Confederacy.
"Symbols and images are such a powerful dynamic, not only for society, but for individuals," Mr. Crump said. "Positive images, like the George Floyd hologram, will help begin to balance all of America's negative imagery, including the Robert E. Lee monument that should be removed from this location, and erase the idea that Black people are supposed to be second class citizens."