Thousands pay tribute to Rep. John Lewis, the last of the Big Six civil rights icons
7/30/2020, 6 p.m.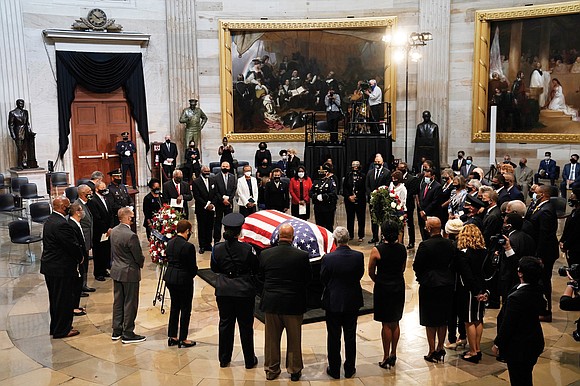 Rep. Lewis was the first African-American lawmaker to lie in state in the U.S. Capitol Rotunda.
Several people wiped away tears as they heard his voice, recorded in a commencement address he had delivered in Atlanta, echoing off the marble and gilded walls.
"You must find a way to get in the way. You must find a way to get in trouble, good trouble, necessary trouble," he intoned. "Use what you have ... to help make our country and make our world a better place, where no one will be left out or left behind. ...It is your time."
Late into the night, a long line of visitors formed outside the Capitol to pay their respects to Rep. Lewis.
On Sunday, in perhaps the most emotional of scenes, his casket was carried by a horse-drawn carriage across the Edmund Pettus Bridge in Selma, where he had been beaten and his skull fractured by racist state troopers during a voting rights demonstration 55 years ago. That day, March 7, 1965, became known as "Bloody Sunday," and galvanized public support for their cause. President Lyndon B. Johnson signed the federal Voting Rights Act of 1965 on Aug. 6 of that year.
Later on Sunday, the body of Rep. Lewis was escorted by Alabama state troopers — this time with Black officers in the ranks — to the Alabama Capitol in Montgomery, where he lay in repose.