Personality: Dr. James J. Fedderman
Spotlight on the incoming president of the Virginia Education Association
6/4/2020, 6 p.m.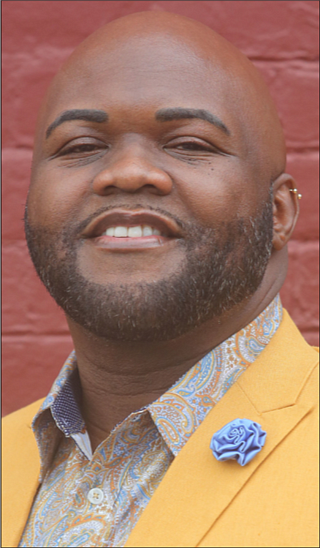 He also wants to continue the VEA's effort to keep public school funds from being diverted to private schools, and has an eye toward policy changes, including collective bargaining; a return to a three-year probationary period for new teachers in school districts; and LGBTQ protections for all.
"Collective bargaining is one of our best ways to advocate for children and for public education," he says. "Educators deserve a seat at the table when public education policy is made."
Meet a committed advocate for educators and education and this week's Personality, Dr. James J. Fedderman:
Occupation: Educator. I am a choral music teacher in Accomack County.
No. 1 volunteer position: President, Virginia Education Association.
Additional community involvement: Trustee and minister of music at African Baptist Church in Cheriton; Virginia High School League volleyball official; and Alpha Phi Alpha Fraternity.
Date and place of birth: Sept. 23 in Nassawadox, which is in Northampton County.
Current residence: Painter in Accomack County.
Education: Bachelor's in music education (choral music), Longwood College; master's in education in administration and supervision, University of Virginia; Ph.D. in organizational leadership, University of Maryland, Eastern Shore; and post-graduate studies, Harvard University.
Family: Daughter, Jordan Alexandria Fedderman, a senior at Nansemond River High School in Suffolk, who will attend Clark Atlanta University in Georgia to study early childhood education, and son, Jaylen Alexander Fedderman, a junior at Nansemond River High School, who plans to go to college to study kinesiology or medicine.
Virginia Education Association is: The largest union for educators in the Commonwealth.
Number of VEA members: 40,000.
VEA's mission: A great public school for every child in the Commonwealth.
Services VEA offers: Professional development and leadership development to rank and file educators across the Commonwealth.
Role of teachers in organization: We are NOT just teachers. We are a wall-to-wall union.
What needs to be done: Give a platform for educators to use their voice about decisions that impact working conditions and learning conditions.
Why VEA is needed: VEA is the pre-eminent union leading teaching and learning across the Commonwealth, ensuring educators have a seat at the table.
Challenge of assuming presidency during the COVID-19 pandemic: I believe I have more of an opportunity versus a challenge to redefine the direction of public education for our students and employees who have been the most vulnerable. COVID-19 has magnified many of the inequities that must be addressed to ensure education equity is guaranteed. Whenever a crisis arises in the Commonwealth, education funding is the first to be cut and the last to be restored.
Role of VEA during the COVID-19 pandemic: We've been hosting twice-weekly Facebook Live presentations. They are broadcast each Monday and Thursday afternoons at 3 p.m. and also are available for viewing later on VEA's Facebook page. So far, I've had some great special guests, and we've answered members' questions and concerns regarding technology and equity, safety and a host of other issues.
Across the state, local leadership has stepped up to ensure members are informed and protected, too. Some are holding their own Facebook Live updates. Others are communicating with members by email, and many local unions are meeting with school division leadership remotely. Working together, in solidarity, we WILL get through this.