George Floyd, 'cornerstone of a movement,' is laid to rest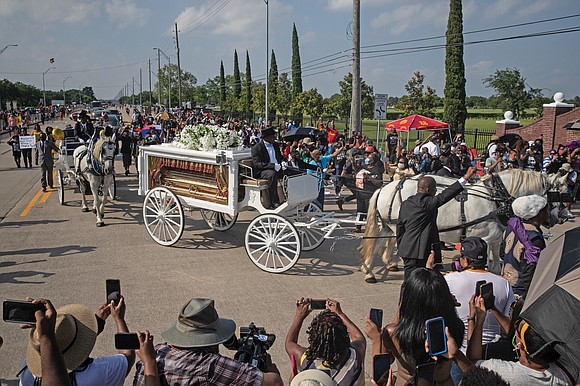 HOUSTON - Fifteen days after George Floyd cried out for his mother with his final breaths, the 46-year-old who has become a worldwide symbol in the call for justice was laid to rest beside his mother after a funeral Tuesday in his boyhood home of Houston.
Hundreds of mourners wearing masks against the coronavirus packed the private service held at Fountain of Praise Church, where Mr. Floyd was memorialized as "an ordinary brother" transformed by fate into the "cornerstone of a movement."
During a four-hour service broadcast live on every major television network, family members, clergy and politicians exhorted people to turn grief and outrage at his death into a moment of reckoning for the nation.
The funeral followed two weeks of protests across the nation and the world ignited by graphic cell phone video of Mr. Floyd handcuffed and lying face down on a Minneapolis street while a white police officer kneels on his neck for nearly 9 minutes. The video shows Mr. Floyd gasping for air as he cries out, "Mama," and groans, "Please, I can't breathe," before falling silent and still.
The former officer, Derek Chauvin, 44, has since been charged with second degree murder and second degree manslaughter and three other officers with aiding and abetting Mr. Floyd's May 25 death. All were fired from the Minneapolis police force a day after the incident.
Mr. Floyd's dying words have become a rallying cry for hundreds of thousands of protesters around the globe who have since taken to the streets, undaunted by the coronavirus pandemic, demanding justice for Mr. Floyd and other unarmed black men and women killed by police or white vigilantes and an end to police violence and abuse.
"I can breathe. And as long as I'm breathing, justice will be served," Mr. Floyd's niece, Brooklyn Williams, declared in remarks that drew applause from mourners inside the church. "This is not just a murder but a hate crime."
Ms. Williams was one of several relatives and friends who addressed the service, remembering Mr. Floyd as a loving, larger-than-life personality. The memorial was punctuated by gospel music and a video montage of shared memories of the 6-foot-6 man affectionately known as "Big Floyd."
His younger brother, Terrence Floyd, spoke about awakening in the middle of the night in recent days, traumatized by the memory of seeing his older sibling calling out for their mother as he lay dying.
His sister, LaTonya Floyd, sobbing in grief, told mourners, "I thank God for giving me my own personal Superman."
Civil rights activist the Rev. Al Sharpton called Mr. Floyd "an ordinary brother" who grew up in a housing project but left behind a legacy of greatness despite rejections in jobs and sports that prevented him from achieving all that he once aspired to become.
"God took the rejected stone and made him the cornerstone of a movement that is going to change the whole wide world," Rev. Sharpton said, invoking a biblical parable from the New Testament.
Rev. Sharpton said the Floyd family would lead a march on Washington being organized for Aug. 28 to mark the 57th anniversary of Dr. Martin Luther King Jr.'s 1963 "I Have a Dream" speech given from the steps of the Lincoln Memorial.