Delroy Lindo gives riveting performance in Spike Lee's 'Da 5 Bloods'
6/18/2020, 6 p.m.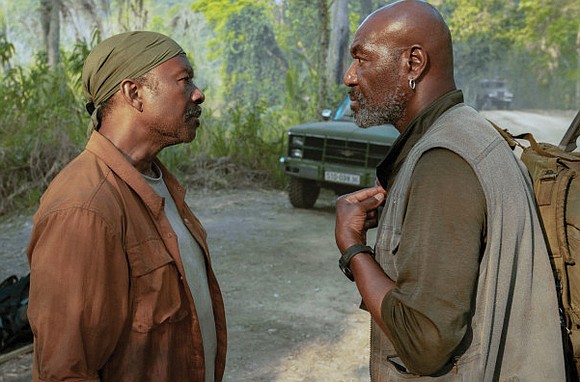 NEW YORK - In the jungle of Spike Lee's sprawling and anguished "Da 5 Bloods," Delroy Lindo's titanic performance as a Vietnam veteran rises to a ferocious, even Shakespearean pinnacle.
Mr. Lee's film, now streaming on Netflix, follows four African-American veterans who decades later return to Vietnam to find the remains of their fallen squad leader (Chadwick Boseman) and lost gold. Mr. Lindo plays Paul, the most tragic figure of the bunch, a soldier haunted by PTSD. Mangled by disappointment, xenophobia and rage, he has turned into a supporter of President Trump and wears a "Make American Great Again" hat.
In Mr. Lindo's intense performance, "Da 5 Bloods" turns almost mythic in its deconstruction of African-American history in U.S. combat and in war films. For the 67-year-old Mr. Lindo, it's a mountain-peak performance in a career, first established on the stage, that began with a trio of films with Mr. Lee (1992's "Malcolm X," 1994's "Crooklyn" and 1995's "Clockers").
Mr. Lindo's gravity has long been felt in roles large and small, from "Get Shorty" to "Heist," but "Da 5 Bloods" gives Mr. Lindo one of his fullest showcases. If there's Oscar buzz this year, he'll have it.
"I am deeply proud of this work," Mr. Lindo said in a recent phone interview from the Bay Area home he shares with his wife and 18- year-old son.
Mr. Lindo built his performance on research, meeting with two cousins who served and a number of Vietnam vets. He re-read the oral history of African-Americans in the Vietnam War, "Bloods," and watched the 1974 documentary "Hearts and Minds." And he attempted to funnel centuries of pain for black American soldiers into a colossal, larger-than-life character.
Mr. Lindo felt the role closely enough that, in an interview, he sometimes drifted into referring to his character as himself. In the Q&A below, his answers have been edited for brevity and clarity.
Q: It had been 25 years since you worked with Spike. Did you notice anything different about him?
Mr. Lindo: He first called me when I was in the car. He said some things that really moved me in terms of his respect for me, his regard for me. That was different. I have to say that there were disagreements that we had. I'm not going to tell you exactly what they were, but there were a couple of bumpy moments when we disagreed about a couple things, a couple very, very important things. But, A, we were able to move on and, B, he apologized. That for me was a manifestation of his regard for me creatively, as a creative worker. The overall experience was enhanced by the 20-plus years that had passed since we worked together. We're both 25 years older but still on a similar track, creatively.
Q: You and Spike initially disagreed about making Paul a Trump supporter.
Mr. Lindo: I remember saying to Spike, "Spike, I'm a father and a parent. I don't want my son to see me doing that." But once Spike made it clear to me, "I need this, man. I need this to be a component of the story," then my job was to get my head around it and rationalize it. It had to do with the depth of the betrayal that Paul has experienced, the loss that Paul has experienced. One of the largest betrayals had to do with the betrayal by my country when I got back from the war. My two cousins said to me they were stunned by the reaction, the lack of embrace for them as vets. Cumulatively, these betrayals add up to feeling disenfranchised that could result in this individual coming along in 2016 and saying, "I can make it better." I can see how one could get sucked into drink that particular cup of Kool-Aid. And Paul drank a pitcher of Kool-Aid, man. Not just a cup.