Under fire
Calls grow for Interim Chief Blackwell to resign after word of his fatal 2002 officer-involved shooting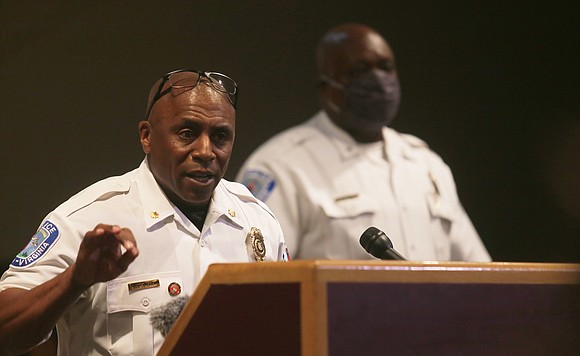 Since then, Chief Blackwell has risen through ranks and held various positions, including successful leadership of the Fourth Precinct that covers Downtown and portions of North Side that drew department praise for crime reduction.
The Gilliam case was one of five police killings of civilians in Richmond in 2002 that sparked
reforms in police training. Only one officer, Sgt. David Melvin, ultimately faced trial, and he was acquitted after juries twice deadlocked in earlier trials.
Mayor Stoney has said he knew about the Gilliam slaying when he appointed Chief Blackwell.
So far, members of City Council have stayed mum about the new interim chief and his personnel record. The appointment was solely within the mayor's discretion, with the council having no formal say.
However, since the Gilliam killing was unearthed, plenty of other people have expressed dismay over Chief Blackwell's appointment, including members of the General Assembly and Petersburg native R&B singer Trey Songz, who just days after dining with Mayor Stoney and Councilman Jones in Richmond last weekend, called for the mayor to resign as a result of the appointment.
Separately, the family of Mr. Gilliam also expressed surprise and dismay that the man who killed their loved one is now leading the Richmond Police Department.
In a letter that went public, the family said they were told in 2002 that Chief Blackwell had left the city police department, although that was not the case.
They also raised questions about Chief Blackwell's version of Mr. Gilliam's slaying.
"We had no doubt about the integrity of Mr. Blackwell; now we question Mayor Levar Stoney's integrity," the letter reads. "Maybe it's time for him to step down!"
Richmond For All, a member-driven political group, was among a host of organizations that weighed in. The group tweeted that the appointment of Chief Blackwell "reinforces what the public already know: Justice lies in the hands of the people not the police. Com- munity oversight now."
Meanwhile, John I. Dixon III, president of the Richmond Crusade for Voters and a former Petersburg Police chief and former Richmond officer, is hoping that Mayor Stoney's plans for reform are not derailed by the focus on the new chief's past.
"I welcome the call for reform," Mr. Dixon said. "What is needed is a change from the warrior mentality in the police to a guardian mentality. The calls for reform are sweeping the country and the world, and Richmond needs to be part of this movement."
Mr. Dixon, who did not want to comment specifically on Chief Blackwell's past, said the mayor correctly spotlighted the problem — that the police are being involved in too many areas, ranging from domestic abuse to drug treatment to mental health and homelessness.
"It is time for a change," Mr. Dixon said.