State officials: Va. ready to handle coronavirus
George Copeland Jr. and Ronald E. Carrington | 3/6/2020, 6 a.m.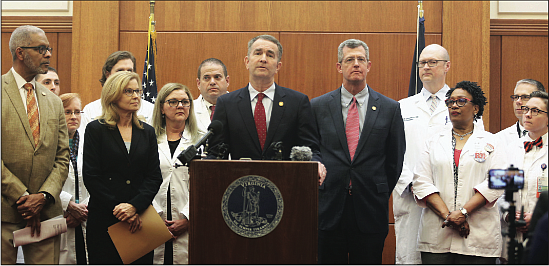 In Virginia, 328 people have been monitored for signs of coronavirus, with 106 cases ongoing and three test results currently pending, according to the state health department's website.
In his weekly online newsletter, Richmond Public Schools Superintendent Jason Kamras noted that following his discussions with Dr. Danny Avula, director of the Richmond and Henrico health districts, schools will undergo more frequent cleaning, particularly of desks, chairs, door handles, light switches and other surfaces that could carry the virus.
He also stressed the importance of school bathrooms being fully stocked with soap, hand sanitizer and paper towels.
He also reminded families and school staff that anyone with flu-like symptoms should remain at home.
Tips to avoid contracting coronavirus
State health officials offered the following tips to prevent the potential spread of coronavirus:
• Avoid close contact with people who are sick.
• Avoid touching your eyes, nose and mouth with unwashed hands.
• Wash your hands often with soap and warm water for at least 20 seconds. • Use alcohol-based hand sanitizer that contains at least 60 percent alcohol if soap and water are unavailable.
• Cover your cough or sneeze with a tissue, then throw the tissue in the trash. • Clean and disinfect frequently touched surfaces and objects, such as toys, doorknobs and electronics, especially if someone is sick.
• Stay home if you are sick.
Websites for information and updates:
www.vdh.virginia.... www.cdc.gov/coron... www.who.int/emerg... www.vhha.com/reso...