'Count Blockula' Hassan Whiteside leads NBA in blocked shots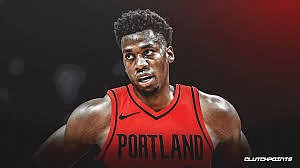 The area under the backboards is where Hassan Whiteside feels most at home, and he doesn't take kindly to trespassers.
The 7-foot, 235-pound center for the Portland Trail Blazers led the NBA in blocked shots at the time league play was suspended, and is arguably the elite rejecter of this era.
"I'm a defensive guy," Whiteside told NBC Sports. "I feel like I'm the best rim protector in the league, and it's not even close."
Answering to "Count Blockula," Whiteside averaged 3.1 blocks per game, well ahead of runner-ups Anthony Davis of the Los Angeles Lakers and the Milwaukee Bucks' Brook Lopez, both at 2.4.
Blocking is not all Whiteside does. His 14 rebounds per game is second only to Andre Drummond, averaging 15.7. Whiteside also av- erages 16.3 points per game, a step up from his 13.8 career norm.
Whiteside has been doing this for a while. His most proficient season was 2015-16 when he led the NBA with 3.68 rejections per game.
His 985 career blocks from 2010 to the present are the most of any active player.
Blocked shots are harder to come by now than long ago. The "3-Point Revolution" has resulted in fewer shooting attempts near the hoop.
For example, Brian Taylor led the NBA in 3-point tries in 1979-80 with 239. Last season, James Harden was the most frequent shooter from the distance with 1,028 attempts.
The record for blocks per game was set in 1984-85 when 7-foot-4 Mark Eaton averaged 5.56. Next is Manute Bol, who averaged 5.0 in 1985-86.
Before entering the NBA as the Sacramento Kings' second round draft choice in 2010, Whiteside led the NCAA in blocked shots as a Marshall University junior, accumulating 182.
Whiteside played for Sacramento from 2010 to 2012 and the Miami Heat from 2014 to 2019 before going to Portland in 2019 in a four-team trade involving Miami, the L.A. Clippers and the Philadelphia 76ers.
His rise to star status hasn't been a clean ride. In between NBA stints, he played for three teams in the NBA G-League and also for teams in Lebanon and China.
From Gastonia, N.C., Whiteside has a wandering nature that was apparent while in school. He played for five different high schools — Hunter Huss, Ashbrook and Forestview high schools and The Patterson School in North Carolina and at Eastside High School in New Jersey, where his father lived.
The NBA did not make blocked shots an official statistic until 1972-73, meaning such legendary big men as Bill Russell, Wilt Chamberlain, Walt Bellamy and Nate Thurmond missed their chance for the record book.
With play suspended, here are other individual leaders in the NBA through about 65 games of a normal 82-game regular season.
• Scoring: James Harden, Houston Rockets, 34.4
• Assists: LeBron James, Los Angeles Lakers, 10.6
• Steals: Ben Simmons, Philadelphia 76ers, 2.1
• Field-goal percentage: Mitchell Robinson, New York Knicks, 74.2 percent
• 3-pointers made: Harden, 271
• 3-point percentage: George Hill, Milwaukee Bucks, 48 percent
• Free-throw percentage: Devin Booker, Phoenix Suns, 91.6 percent
• Double-doubles: GiannisAntetokounmpo, Milwaukee Bucks, 52; Whiteside is second with 51
Taking a timeout
The NBA has suspended its season until further notice due to coronavirus.
Announcement of the suspension came March 11 when All-Star center Rudy Gobert of the Utah Jazz tested positive for the illness.
Since then, a second Utah player, Donovan Mitchell, also has tested positive.