Businesses adjust to social distancing, governor's executive order on COVID-19
Ronald E. Carrington | 3/26/2020, 6 p.m. | Updated on 3/30/2020, 11:30 a.m.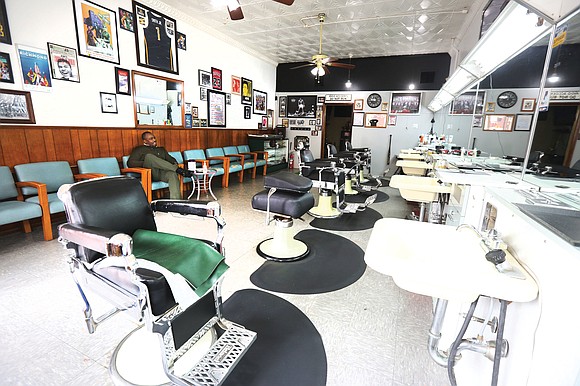 Anita Hill-Moses, an entrepreneur and natural hair stylist, is among the thousands of small businesses in the Richmond area feeling the effects of the coronavirus outbreak and lockdown.
Her business, B.A.D. Braids and Dreds Inc. located in Midlothian, services natural hair, specializing in all forms, lengths, textures and styles.
As the pandemic continues, she has adjusted her business so her clients can be safe when they come in to get their hair styled.
"Business has been a seesaw," Ms. Hill-Moses said. "Originally, people were calling canceling their appointments."
To address her customers' concerns and apprehensions, Ms. Hill-Moses implemented many of the state and federal guidelines regarding COVID-19, including frequent and thorough cleaning of the salon and requiring clients to wash their hands when they arrive.
With four stylists working, there are only six patrons in the salon at any one time, Ms. Hill-Moses said. And while avoiding close contact is difficult in the hair business, they use masks and surgical gloves to protect themselves and their customers.
"Once we put those measures in place, business started to pick up," she said.
On Monday, Gov. Ralph S. Northam ordered all non-essential recreational and entertainment businesses to close effective 11:59 p.m. Tuesday through April 23, including movie theaters, bowling alleys, museums, racetracks, arcades and amusement parks. Beauty salons, barbershops, spas and other personal care businesses that would not allow compliance with social distancing guidelines also are to be shut down under the governor's order.
Restaurants, food courts, breweries, wineries and farmers markets can remain open only for take-out and delivery.
Essential retail businesses, such as grocery stores, pharmacies, banks, gas stations, pet and feed stores and hardware and auto parts and repair shops, are exempt.
All public and private gatherings of 10 or more people also are prohibited through that time, according to the order.
Marvin Smith, 52, owner of The Barber Shop on2 in Historic Jackson Ward, has been sterilizing everything as he lets in one customer at a time.
He said the shop was busy early in the week as customers tried to get in for a haircut before the governor's order took effect.
On Tuesday, he was working solo.
"I'm taking more naps than cuts," he said. "But we're going to be all right. We will get through this."
For Carnell Lewis, executive director of the South Richmond Adult Day Care Center at 1500 Hull St. in South Side, shut down this week to do a thorough deep cleaning for its 32-person program.
"We are being proactive and cautious because we want our participants and staff to be safe and stay healthy," Mrs. Lewis said.
"We are taking every precautionary measure – social distancing and adhering to all of the mandated measures from the Commonwealth—to make sure everything is done properly."
She said the nonprofit center is looking for additional resources for seniors while they are at home for the week.
"Clearly, the coronavirus outbreak affects us," Mrs. Lewis said. "We need all of the help we can get because we are a nonprofit and we still have to pay for lights and utilities."
Meanwhile, several medical professionals are using technology to provide services to their patients.
Dr. Rashida Gray Gordon established her psychiatry practice six months ago in Henrico County. She has about 70 patients who are becoming comfortable transitioning from in-person appointments to face-to-face interactions on social media.
"Since people are anxious about being outside and wanting to have social distancing, being on a computer screen is comforting," Dr. Gordon said as she worked from her home.
Before COVID-19, she said she had a few college-age patients that used social media for their sessions with her.
However, with the pandemic and some people in self-quarantine, patients couldn't get to her office, she said.
"The world is adjusting. Today, we are experiencing something a little different, which could be a little uncomfortable or a little awkward, as well as managing the technology," she said. "This is an adjustment for my older patients and me."
Regina H. Boone contributed to this story.