School Board grapples with budget cuts and uncertainty in the next school year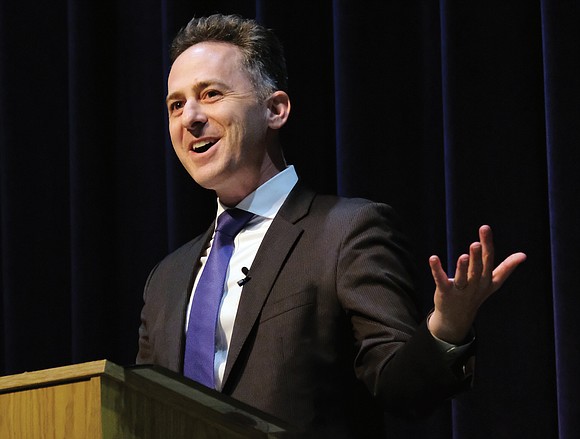 The Richmond School Board and city schools administration continue to work on academic and staffing priorities as looming budget cuts and spending limits caused by the COVID-19 crisis hover like a dark fiscal cloud.
During the last six weeks, the School Board has met three times to review the administration's proposed adjustments to the 2020-21 budget for all line items above $500,000.
Richmond Public Schools is looking at a $24 million budget gap, reduced slightly from earlier projections by more precise revenue numbers just released by the state.
Additionally, RPS also will receive roughly $13.2 million in federal stimulus money related to the coronavirus pan- demic. The federal funds come with some stipulations about how it can be spent. It can be applied to COVID-19 costs, such as disinfecting schools, buying personal protective equipment for staff and providing academic interventions to make up for lost learning time, but not the budget shortfall, officials said.
The school system is hampered in completing its budget work because of the uncertainty in city and state revenues from the economic shutdown caused by the virus and the resulting toll on current and future tax revenue.
The schools administration has recom- mended that approximately $1.5 million remaining in the current 2019-2020 budget be put in reserve for the 2020-21 fiscal year that begins July 1.
In the meantime, the board is still figuring out how much of a raise is possible for teachers and teacher assistants in the coming fiscal year.
Before the COVID-19 crisis, the board was looking at a 4 percent pay hike for teachers, which had been proposed by RPS Superintendent Jason Kamras.
However, in Monday night's meeting, the board signaled that may not be possible. The board appeared to agree on at least a 1 percent raise for teachers and other staff, as well as restoring the behavior intervention pilot for elementary school students, which could be funded by the slight increase in state revenue, and maintaining the STEM academies. The STEM academies also could be supported by private and foundation funding sources.
According to Tracy Epp, RPS' chief academic officer, amending the federal Perkins Grant, which has to be approved by the state first, could fund the science, technology, engineering and mathematics academies at Henderson Middle School and Martin Luther King Jr. Middle School. They are budgeted at $1.8 million.
"It was important to offer those in spite of the coronavirus because they are part of the Dreams4RPS five-year strategic plan the board approved," Mr. Jason Kamras reminded the board.
Board Vice Chair Cheryl Burke, who represents the 7th District, was supported by board colleagues in backing the STEM programs; proposing raises for teachers, their aides and staff, bus drivers and custodians; securing mental health professionals for children and families; and supplying technology.
Board member Felicia Cosby, 6th District, floated the possibility of extending the next school year by one week or going to a year-round school calendar that would not add more instructional days, but would take place in three-month sessions with breaks in between.
Board member Jonathan Young, 4th Dis- trict, said RPS needs to plan in case a second wave of the coronavirus strikes this fall or winter, causing school closures again.
"One of the best parts of year-round school is during those breaks, students can be offered enrichment and intervention," Mr. Kamras responded. "However, the district has to pay teachers and professional support.
"The estimated personnel and other costs for a week is about $4.5 to $5 mil- lion," he continued, with a month totaling about $15 million.
"If we use federal stimulus dollars or make drastic budget cuts on top of what we are presently trying to identify, RPS could only afford one additional week of instructional time," Mr. Kamras said.
The board is expected to adopt a 2020- 21 budget at its meeting on May 18.